Kat Von d claim their liquid foundation delivers full coverage even with a small droplet! It apparently covers blemishes and even tattoos. Well there's only one way to find out how it performs, that's by reading the Kat Von D lock it foundation review!
Aside from this foundation being vegan, cruelty-free as well as being one of the best foundations for me out there and having many great reviews, the main reason why I went ahead and purchased the Kvd lock it foundation is because I needed something that wouldn't melt away half-way through the day, on oily areas especially and actually does as it says on the bottle or description.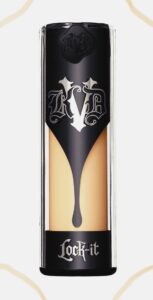 My spots or acne have a mind of their own(just like many others), they just randomly go less visible and other times decide to come out and say hello.
And that's when the problem arises, when they come out to say hello, whatever product I have, I try but they just won't hide to my expections or they either get worser.
So when I sweeped this foundation on I was quite pleasantly, I don't want to say suprised as I expected some greatness but I was wowed, no skin reactions, thankfully I found a kind to sensitive skin foundation.
The kat von d foundation doesn't contain any strong fragrances in its formula, maybe that's why.
These were just some of the goodness about this foundation, others include waterproof, transfer resistant, fade proof etc.
Below I'm going to go through what this product is really about and some of its features, the great and if there are any, the not so good ones too! So hang on guys!
Quick overview
Pros
Lightweight
Provides full coverage
Cool packaging
A good deal of shades available
Cons
Little pricey
Requires some effort to blend at times
Lightweight or heavy?
You are probably thinking, well this is an obvious question, it's going to be heavy on your skin that's how full coverage products are.
Well you if thought that, you're wrong but I get where you're coming from because that's what I first thought, that all full coverage foundations are going to be heavy but that wasn't the case with this one.
The good thing about the kat von d foundation is that it does provide full coverage whilst not making your skin all heavy and stiff (if you get what I mean) it feels nice and light on your skin. Bare in mind, that's if you use a appropriate amount.
I was a little surprised after I pumped out the formula and saw how thick and gloopy it looked. The foundation certainly requires only a small amount as less is certainly more with this one. I wasn't aware of this when I first tried it, so ended up feeling a little tacky.
Shade selection
If you are looking for a brand that has a wide shade range including many skin tones and undertones, then I suggest you take a look at this particular foundation.
They have amazingly over 40 shades for everyone! Whether you're on the richer side or the paler end, kat Von D has got your back.
One thing I do have to say is make sure you look at what shade you are getting and check if it's the right one as I didn't at first and got a few wrong shades. Oops!
Sometimes foundations look a slightly different shade from the outside then what they actually are when you pump it out. For this reason having a look at a swatch beforehand or asking a professional to help you out is the a good idea!
How blendable is it?
Kat Von D's foundation is high pigmented so I was expecting a load of hard work blending it but this was not the case.
I tried two different tools to blend, one of them being the usual blending brush or buffing brush and the second one a beauty blender.
The one that achieved the best result in my opinion was the beauty blender. Blending was only slightly better with the beauty blender than the brush but not significantly.
Overall blending was okay but it could have been easier, not really complaining though comparing it to other high pigmented formulas, it does well.
Lastage and coverage
This foundation has some real stay power. It went through the whole day without showing any signs of weakness. Pretty impressive stuff this is.
There were no melting, no blotches and certainly no cakiness, with of course the right amount.
As with coverage, there's good news. You just literally need one or two pumps to give you a medium to full coverage. This is again partly thanks to the pigmentation I think.
Another feature which I find appealing about this lock it foundation is how long the whole bottle lasts me. I bought it quite a while back and still have plenty of product!
A little goes a long way!
Overall
Overall I would give this foundation a solid 8 out of 10. I would highly recommend this to anyone who's looking for the features mentioned above but weren't sure if the product stayed true to what they stated.
It's especially great for oily skinned peeps. Anyone who requires a long-lasting foundation, that's waterproof and a good value for price then I suggest you check this out for yourselves.
Oh and to add I love the packaging the product comes in, if you're like me, who sometimes could end up making a mess with spillages then don't worry with kat Von D's foundation you won't as it comes in a really awesome pump. So just pump out what you need! No extra wastages!
Anyways if anyone wants to purchase this foundation but aren't sure just consider the above points.
Everyone's experience varies so if you are having mixed feelings you can ask for a sample!
Are any of you peeps still searching far and low for the right foundation or maybe you have a favourite? Let me know in the comment section below.
By the way have you seen kvds new release, the apple foundation balm!
And if you want to check out more awesome vegan foundations then tap here!
Have a great day!?
Please follow and like us: