The lily Lolo eye pencil was recommended to me by a friend of mines, after she had brought it and was pleasantly surprised at how great it was so she thought she'd let me know and you know what I'm actually glad!
Read on to find out why!
Disclosure: This post may contain affiliate links which means that I may earn commission if click and make a purchase but no additional cost to you.
Quick overview
Pros
Contains a bunch of beneficial ingredients
Comfortable to hold
Great for sensitive eyes
Cons
Limited shade range
Have to be careful when sharpening as the pencil is prone to cracking
Description
Lily Lolo state their eye pencil is 'enriched with moisturizing and conditioning ingredients' making it excellent for sensitive skin or eyes, which is what I have!
The application is said to be easy thanks to its smooth and soft formula. The natural eye pencil features a 'rich colour pay off', perfect for 'outlining, defining and enhance' your eyes.
The eye pencil contains beneficial ingredients such as vitamin E, jojoba oil, Shea butter and canola oil which help regulate oils, and has anti aging benefits too.
Okay now let's see how it actually performs!
Application
When it comes to applying eyeliner, especially if it's worn so close to the eye or on the sensitive area such as the waterline, it must be a soft formula and easy to apply otherwise I'm not prepared to damage my precious eyes!
So how did I find the application? Well it was certainly easy to apply, the formula could have been softer but I'd still consider it smooth enough. It certainly didn't poke my eyes, that's for sure. So I would say it does tick the 'soft and smooth formula' box.
The pencil is comfortable to hold however I think it can do with a little grip to stop it slipping.
Texture
Moving swiftly onto the texture, the consistency of this pencil liner I would say is more on the creamy side. It's not the usual hard tip I have experienced before which is good at least I won't start tearing up.
I also like how the formula is gentle making it ideal for anyone who has sensitive eyes. Usually my eyes have a tendency to water as soon as I apply however thankfully it wasn't the case this time round. I'd like to think it's the natural ingredients doing their work!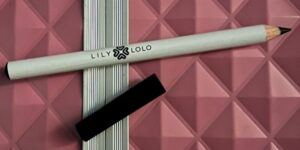 Lastage
The eyeliner stayed put for around 8 hours, until it gradually started to fade. I prefer gradual fade over sudden because it looks more natural. Relining is easy so no worries if I'm in a hurry.
The pigmentation is actually quite good, I would say it does feature a 'rich colour pay off'. It has a deep hue to it which is visible with one coat, I don't have to go over my waterline or lid twice for it to be visible.
It's easily removable with a cotton bud and a little makeup remover too!
The only con I have at the moment is the really small shade range, with literally only two shades, a black and brown. It would be awesome to see more colours such as blue, green, purple, white and the list goes on!
Oh and another thing is the pencil is quite delicate so you have to be careful when sharpening it otherwise you'll end up with a cracked pencil.
Overall
I'd rate this eye pencil an 8/10! I'd give it a 9 if there were more shades available and the pencil didn't crack as easily but other than that the pigmentation is great, formula is a tick, lastage too so overall it's a great product to use daily to outline, define and enhance especially if you have sensitive peepers like me!
Tap here to check the lily Lolo pencil liner out!
Do you prefer pencil liners or liquid? And why? Let me know in the comment section below!
And if you don't want to leave then tap here to check out more awesome vegan pencil eyeliners!
Have a great day!
Please follow and like us: