The Phb ethical beauty eyeliner is an award winner for the best natural eyeliner but that isn't why I decided to claim one for myself. After reading about their background and how they came to be, I became intrigued about their journey as well as their belief in how many of the cosmetics around today contain junk and it's effect on our skins or bodies.
Because of this I was also curious to say the least as to how this would translate into their beauty products.
I highly suggest you check out their story as well as any other information you'd like to know from their website.
Now time for the review! Continue reading to find out how their natural pencil performs!
Quick overview:
Pros
Clean and natural ingredients
Great for sensitive eyes
Good pigmentation
Application is easy as well
Lastage is decent
Cons
Shade range is really limited
A little weak


I'll start with the ingredients.
Ingredients
'enriched with a gentle nourishing formula of plant oils and waxes'
One of the reasons why I decided to grab myself an eye product by PHB ethical beauty is because of their amazing approach to keeping their formulas all naturally derived and organic.
They believe whatever goes on the skin also goes into the skin, which I truly believe. I have sensitive eyes especially when it comes to new products and this brand definitely fits right into my skins needs.
This particular eyeliner is of course made from a natural and organic formula but not just that, it's free from junk such as parabens, fillers, talc, formaldehyde, SLS and much more.
This is one of the few eyeliners that I have, which I feel completely safe knowing I'm not going to get watery or red eyes. If you wear contact lenses this is also suitable to use on the eyes.
Ingredients = 9/10!
Pigmentation
This pencil comes in two different shades, a brown and a black. I decided to go for the brown shade as I have plenty of black pencils, although I do prefer the deeper shades more.
The brown hue has great pigmentation to it. The colour comes out quite deep and rich than expected. It's almost as deep as the black shade. I also use this colour on my brows and it comes out great.
Pigmentation = 8/10!
Application
'Smooth, gentle and easy to apply'
Have you ever used those eyeliners which claim to be soft and smooth but when you actually use it, it scratches the crap out of your delicate eyes!
I've tried enough to not believe such statements! So with this eyeliner I went with a neutral mind just hoping this colour turned out to be gentle.
So was it? Errrm, it wasn't bad, though I did feel it on my waterline, I mean obviously you would. It wasn't harsh as other brands I've tried, it did glide away smoothly without tugging at my skin.
To put simply, instead of me rambling, I'd say it was easy to apply.
Application = 8/10!
Lastage
Phb mention this eyeliner is a 'rich, long-lasting colour' and I can tell you it does put up quite well.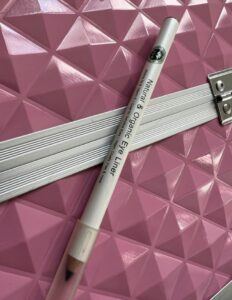 I mainly use eyeliner on my bottom waterline which I feel like, usually liners struggle to stay long enough due to the water build up however surprisingly this product managed to stay put through majority of the day.
I only had to fix it once and that was due to my eyes watering other than that the lastage was great, their weren't no smudging or major dragging.
I think the water resistant feature of this liner definitely gave it that upper hand, otherwise it may have not stood it's ground.
This pencil doesn't come with a sharpener which I'm a little bothered about. When I do try sharpening it, it sometimes cracks however I did find leaving it in the freezer a little longer to solve the problem though.
Lastage = 8/10!
Overall
I would rate this pencil an 8/10! It's a beautiful smooth formula with safe ingredients as well as good pigmentation and lastage.
So what's not to love about it? Apart from the sharpening issue, it's an amazing product especially for sensitive eyes!
I think if there were more colours in this range I would definitely go for full marks!
That's it for now, if you'd like to check out more awesome vegan eyeliners then tap here!
Or if you have sensitive eyes like me then check out these gentle liners!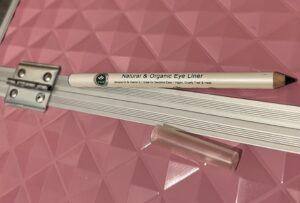 Have any of you peeps tried any of PHB ethical beauties products? What do you think of them? Let me know in the comment section below!
Have a great day!
Please follow and like us: