I haven't really given much attention to any of Milani's products apart from their eyeshadow palette and now the milani eye tech liquid eyeliner.
Milani is a 100% cruelty-free brand however not all their products are vegan as a few contain animal derived ingredients, so if you are after strictly vegan, then look out for the logo!
Disclosure: This post may contain affiliate links which means that I may earn commission if click and make a purchase but no additional cost to you.
Quick overview:
Pros
Quick drying
Long lasting
No smudging
Waterproof
Cons
Tip isn't as flexible or soft as other liners I've tried.
Let's get to the review now! Starting with the description:
Claims

Milani claim this eye tech liquid eyeliner will help you get a 'long-lasting shiny' finish with their 'smudge proof' formula. They promise their 'skinny tip' can be used to create the defined looks you have been after.
As with many liquid liners, the milani eye tech eyeliner also has a quick drying time.
But of course these are merely words, read on to find out if any of these claims prove to be true!
Packaging
The packaging is identical to any other liquid eyeliner that comes in a pen format. It is thin and light therefore travel friendly.
The pen is secured by a cap which you pull to access the product. It is fairly easy to open but is tight enough so it doesn't end up coming loose inside a bag or wherever you store it.
The design is in an all black smooth finish with a little shine and the brand's logo and product name engraved in gold. There is a change of texture for better grip towards the top part of the eyeliner.
Lastage
Obviously one of the main features which an eyeliner should do well in is the lastage. Milani state this eyeliner is long-lasting and has a smudge proof formula.
So was I met with this expectation? Yes to some extent! It got through roughly 8 to 9 hours which isn't too bad if I put the price into perspective.
I didn't experience any major smudging, so it ticks that box. There also weren't no dramatic fading though it did towards the end loose a little colour, I mean I have quite oily lids so that could explain why.
As for how waterproof it is, I know it wasn't removable with water only so I had to resort to a makeup remover, were it did come off easily. In other words it also ticks the waterproof box.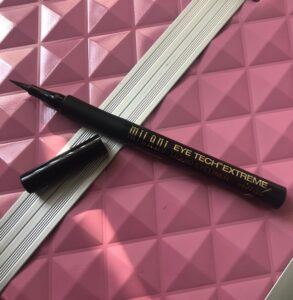 Application
I prefer eyeliners in liquid pen form due to the ease of application and the softness they typically possess.
This particular product does have a nice pointy tip which definitely helps to get that precise crisp line needed for the cat eye or any other defining look.
About how it feels when it's used across the eye, I would say it isn't as soft as other liners I've used such as the kat von d eyeliner but not that harsh where I'd have to drag my skin as I'm applying.
The pigment does flow out easily and deposits enough product with one swipe. However, I did tend to go over twice just to get that rich crisp line.
It feels quite comfortable in my hands and the different texture towards the tip helps to make handling a little less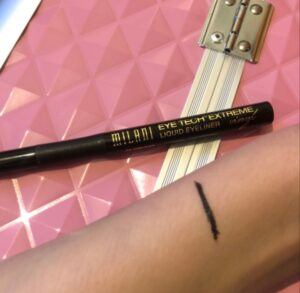 slippery.
So the only thing which I wasn't a big fan of was the bendability of the tip. And now I have started to notice the tip dries really quick if you make the mistake of not closing it properly.
Unfortunately my pen has dried a good deal from the tip leaving the base, the only part which holds pigmentation which hinders the ability to create precise lines! 🙁
I think I'm used to really flexible and soft tips such as the too faced eyeliner so that's probably the reason why this pen felt a little hard, but other than that it's a thumbs up!
I would rate this pen an 8/10! It has good stay power and pigment apart from the issue towards the end. It's easy to use and hold too!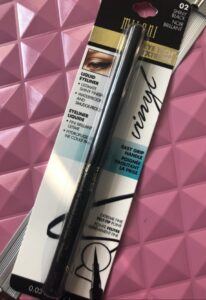 Tap here if you'd like to grab your own milani liquid eyeliner.
That's all for now, If you have any suggestions or questions then feel free to drop them down below in the comment section!
If you don't want to leave yet, then you can check out some more awesome vegan liquid eyeliners here!
Have a great day!?
Please follow and like us: