I had brought the I heart revolution eyeshadow palette for my sister as a birthday gift but because it looked so cool, you know what I decided to grab myself one!
She has the pinky shades whereas I went for the more natural shades due to the colours being easily buildable from day to evening look.
Shall we get on with the review now?
I think so!
Quick overview:
Pros
Cute packaging
Decent amount of shades
Handy mirror
Easy to blend
Affordable
Cons
Less pigmentation
Some shades may need touch ups than others
Continue reading if you'd like to know how this palette performs!
Packaging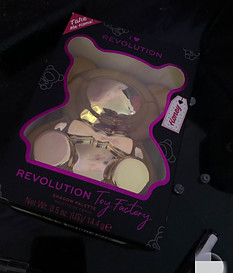 Starting with the packaging.
The packaging is quite creative and unique, a bear shape. Depending on what eyeshadow palette you have, it either comes in a shiny finish or a matte if it's the black or pink bear.
The golden palette, which I have is in a shiny finish. The packaging don't have any other features such as eyes or other details apart from the outline which clearly resembles a bear.
The palette opens up from the bottom where the foot of the bear is. It opens upwards where you are met with the shades at the bottom as well as top.
Plenty of colours! I also like that they managed to fit a handy mirror in, which is a decent size too!
The shades fill in most of the bear figure including the ears. I like the whole palette appearance, it looks great on the shelf or table. Though it does look great, I wouldn't say it is travel friendly if you are short on space since it is quite bulky. Having said that if you have decent space then it can be somewhat convenient due to it's handy mirror along with a number of shades.
Collection
The teddy bear eyeshadow comes in 4 different bear shaped palettes. You can collect them all or like me just choose the palette with the shades you are interested in.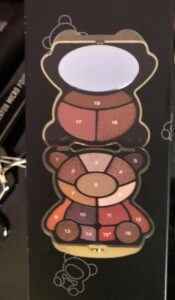 The palettes are coolingly named by us the public. They are Jett, a matte black colour with 'neutral and earthy tones', honey, a gold palette with warm brown and golden hues, Lulu is a pink bear with bright shades and last but not least Rosie who is a rose gold bear filled with bronze and a few pink shades.
I currently have Honey the golden bear palette after realising it contained majority of the shades I was after.
Shades
As mentioned earlier, the golden palette consists of browns and gold's with warm undertones. There are around 19 hues of pressed pigments in each case. Most of the shades are metallic which means they do have shimmer to them.
The reason why I chose this particular palette out of the rest of the collection is because they can be worn daily for an every day or evening look. I also like how I can easily mix and match with other palettes.
Application/blendability
These shades are quite easy to grab especially when using a dense brush. I tried with my fingers, however I noticed that more colour stayed on my finger than it transferring onto my lid.
Using a fluffy brush probably was the least effective unless you're just highlighting.
Blending was effortless too apart from one problem which was the colours. They became a little too soft and mixed quite quick if you don't be careful of how you blend.
To achieve the best results as well as ease of blending and application make sure you use an eye primer.
Lastage
Lastage was pretty good. It stayed clinged on for at least over half a day. I did use a setting spray to help extend the stay power, lasting for around 7 hours maximum.
When it neared towards the sixth and seventh hour it started to gradually fade. It still had a little shimmer to it but not as visible.
Without a setting powder or spray as well as primer, unfortunately I don't think it would have lasted as long.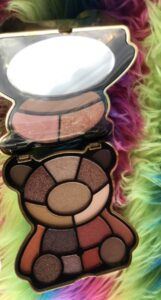 But still overall I'd rate it a 7/10! The packaging is definitely the strongest point as well as the ease of application. The lastage too was great considering the price.
I would give it extra points if it had a little more pigmentation in the colours which would probably also elongate the stay power in my opinion.
This palette is great for anyone looking for an affordable product with easily buildable shades and even more awesome as a gift due to the cute design.
Do you have a beauty product which you think has a beautiful design? Let me know in the comment section below!
Otherwise if you don't want to leave then tap here to view more awesome vegan eyeshadow palettes!
Have a great day!?
Please follow and like us: