I'm sure you all remember how much the brow game changed throughout the years and how you tried your best to catch up with it. From plucking to filling and everything in between just to get that right shape to frame your face. In other words, you may have gone through all sorts of eyebrow products like gels and pencils to try to cope with the trend. Well at least for me this is true and I'd like to tell you out of all the cheap products I've tried so far, I really like the NYX micro eyebrow pencil. Well at least for now until I find another fav!
The brow pencil which I'm talking about is a retractable pencil that allows you to 'build beautiful full brows' with its 'ultra thin' tip, which ensures even the finest hair are coated to help give you a defined natural finish.
Okay so now onto all the reasons why I think this product is brow perfect!
Disclosure: This post may contain affiliate links which means that I may earn commission if click and make a purchase but no additional cost to you.
Quick overview:
Pros
8 shade range
Quick & simple to apply
Great design – no need to sharpen
Comes with handy brow spoolie
Cons
Pencil has a tendency to snap easily
The colour range
First up the shade selection, I'd like to say I'm really digging into the various colours available, there are around 8 different shades!
The shades include ash brown, black, blonde, brunette, chocolate, expresso, taupe a light brown colour and Auburn a medium brown kinda shade.
I used the black shade, at first I thought it would be too dark but actually when I used it, it was just the right colour.
It came out a perfect almost black shade that wasn't too harsh like other shades I've tried.
Shade range = 7/10!
Perfect formula?
Obviously with it being vegan and cruelty-free the other thing I like is the formula or texture should I say, whichever you want to call it.
The texture of the brow pencil is a little hard but you don't feel it when applying. It's a little like crayons, seem hard but when you use it, it has great pigmentation and feels smooth.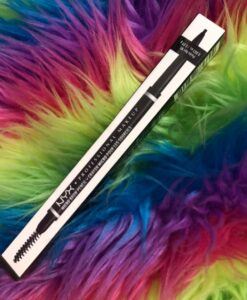 The textures makes sure the product stays on your brows for a good amount of time and doesn't rub of with the slightest of touch.
Great for those of you who often touch their brows for some reason like me.
I found that the formula allowed me to glide with ease and smoothly across the brow too! But one problem I did experience was the reaction it caused. My brows were a little itchy for some reason which leads me to state sensitive skin peeps may need to definitely do a patch test beforehand!
Formula = 7/10!
Application
As mentioned the product is really simple and quick to apply. And that's largely thanks to the precise tip, you can easily create a natural looking brow by just using gentle short strokes to help mimic real hair or a bold look.  You can easily control how thick or thin you would like the line to be, with pressing down creating more bold effects.
Application = 8/10!
Design
The design is pretty useful. If you don't like sharpening then you're going to want to have this in your makeup bag.
With this type of product it doesn't require sharpening because it's retractable, so you just twist it in and out, a new product appears just like that.
This product is two-sided so want to know what's on the other side?
 Well a spoolie brush (why is it called a spoolie anyways? I'd like to know) so you can get extra help by using the brush to comb you hair ready.
Design = 8/10!
So worth it or nay!
Of course there is room for improvement, so the only problem I'd like to say I had with this pencil was that it had a tendency to break if pressed a little harder but obviously this can be put behind by using gentle motions, I mean it still does the job. But if you want a bold look then that's an issue
Oh and maybe adding a couple more shades would be extra nice and cool to see.
Overall I would rate this product an 7/10! Would I buy this again? I mean   it did tick most of my boxes in what I am looking for in a brow product whilst at the same time being affordable. However I didn't like the itchiness it caused as well as how easily it could snap hindering the ability to perform well.
If you think this micro brow pencil speaks to you then what are you waiting for,go grab yours!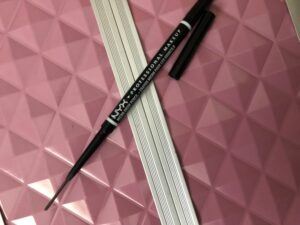 Whilst you are here, if you want to check out the NYX stay matte not flat powder foundation then tap here!
Or more awesome vegan brow products tap here!
If you have any questions or suggestions let me know in the comment section, glad to help!
Have a great day! ?
Please follow and like us: