Why use a concealer? What is it even used for? Do you really need it? Well if you are interested in this cosmetic product then I guess you're at the right place!
I once only had a foundation, then progressed to primer and now concealer! I guess not everyone needs it or you can make do without it.
I never owned a concealer before and now funnily enough I use my concealer more than my foundation and primer combined. You can say it's pretty useful!
On days were I can't be bothered or just want a minimal makeup look, I just blot tiny amounts under my eyes and then blend out, using my fingers or a small brush. And I'm ready for the day! Simple as that!
Okay enough of that, shall we begin?!
What is a concealer?
So you have primed, blended your foundation in and now it's time to whip the concealer out! Or maybe you apply the concealer first, whatever way, what exactly is a concealer?
I know you know it's a thing you apply on the face but how different is it to a foundation or other beauty products?
Well, a concealer is quite similar to foundation, except a little on the thicker side, it's a cosmetic liquid which is often used to cover up imperfections such as dark circles, red spots, age spots, blemishes and other markings on the skin which you may want to conceal.
But they are quite versatile, they can be used for other reasons too, which I'll discuss below!
Concealers unlike foundations are only needed in small amounts, less is more here! They like foundations come in various shades to match your skin tone, you can also get them in different forms like stick or liquid.
Where and why use a concealer?
When you think of applying concealer, the first place which comes to your mind is probably under the eyes right? Or wherever you apply it.
However, concealers can be applied other than under eyes, it can go anywhere from cheekbones to brow bones or even the bridge of your nose!
It actually depends on what your purpose is of applying it, for example if you want to use it to highlight then you might find yourself blotting some on your brow bone, just above your cheekbones or down the bridge of your nose.
Are you seeing a similarity here with another cosmetic product? Yes that's right quite similar to where you would apply a highlighter, that's because a concealer can be used as one!
Concealer can be applied to lids too as a great base, and even use it to stop lipsticks from bleeding or smudging by going along your natural lip line. You can neaten your brows up too after you've filled them in!
They're pretty useful aren't they?!
How to conceal!
You can apply a concealer with what you feel comfortable with however it's recommended to use a small concealer brush as it's much easier.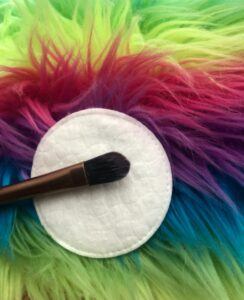 Though I personally prefer using my pinky finger,  blending concealers is usually done with a fluffy brush or a sponge. 
You can check out here the different types of brushes as well as what they're best used for.
Okay so once you have your concealer selected, which keep in mind has to be two shades lighter than your skin, you then get ready to spludge and stroke.
Okay not spludge, just squeeze a small amount onto the back of your hand and dab your brush, now you're ready to conceal the area that needs taking care of.
So if you didn't sleep well, you might have dark circles, for that you will need to create a small triangle under the eye and blend carefully until it appears natural, now the darkness should also start to vanish!
For other areas like highlighting on the brow bone, you would follow a similar strategy maybe using different motions and of course the amount of product varies too!
That's it for now folks! But if you don't want to leave then tap here to check out vegan concealers! Otherwise…
Have a great day!
Please follow and like us: