Blushes are amazing, they can be quite versatile, apart from using them on the apple of your cheeks, you can add a magic touch to your lips and eyelids! They truly can lift that natural look as well with just one swipe! But be careful not to add too much otherwise you're going to look like you're constantly embarrassed! Anyways here are a bunch of best vegan blush you should check out!
Did you know blush is also known as rouge which means red in french, though they are available in various colours!
I've tried to include different forms such as powder and liquid so enjoy!!!
Disclosure: This post may contain affiliate links which means that I may earn commission if click and make a purchase but no additional cost to you.
Huda Beauty glowish cheeky blush
A velvety blush designed to cover all skin tones, the glowish cheeky blush helps create a ' fresh-faced flush of colour and a soft focus glow'.
The formula is said to be buttery, non-drying and is 90% naturally derived with skin loving ingredients like Damascus rose oil, red bell pepper extract, Shea butter and much more!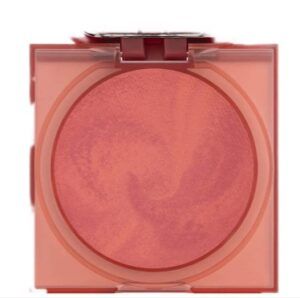 And apparently this blush lasts a whopping 12hrs! Now if that's not called long-lasting, then I don't know what is!
The glowish blush comes in 4 fragrance free and transfer proof shades.
Elf putty blush
One of the most affordable vegan brands, elf, offer a great cream to powder blush available in six different shades to help you achieve that island glow!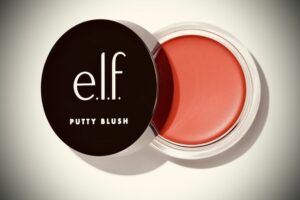 And guess what they're named after islands too! From Bora Bora to Maldives and Bahamas, I'm sure they'll give you that vibe once applied!
They are said to be highly pigmented, lightweight and buildable. You also get the benefits of a nourished and moisturized skin from the argon oil and vitamin E.
Pacifica cheeky cherry cheek stain
This cheeky blush comes in three cherry like shades, in a form of a liquid so you can apply directly using your fingers without any problems.
It's great for anyone who's going for the no makeup look!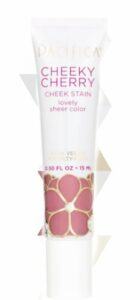 It's not called cherry for no reason, as one of the main ingredients includes miss sweet cherry herself!
There's also vitamin E and sappan bark extract which is said to have anti microbial properties and is moisturizing too!
Milk makeup lip + cheek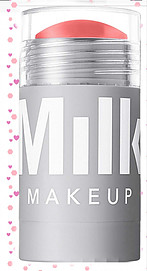 One of my favourite cheek products out there, this 2 in 1 can be used as a lip tint and a cheek blush! Pretty useful!
This product is formulated in a creamy texture so it's hydrating and easily buildable. The 8 shade range includes pinks, berries, rose, terracotta and more!
You can start with a sheer tint and build easily from there and then blend using your fingers, brush or whatever you prefer! Ingredients include mango butter and apricot oil.
Did I mention the packaging is super cute too! Oh and travel friendly!
Tap here for more information on how the lip cheek stick performs!
100% pure fruit pigmented blush
If you're looking for something which is fruit pigmented, natural, vegan and cruelty-free, then you are going to love the fruit pigmented blush!
It's full of yummy ingredients including pomegranate, cherry, goji berry, cranberry and raspberry!
The 9 shaded anti oxidant rich blush aims to give your cheeks a 'healthy, natural flush of colour' for all skin types plus it has anti aging benefits too!
The 'finely pressed rice powder' makes a soft and smooth formula.
PYT Hot flush blush
The Pyt hot flush blush is a mainly matte based with one shimmer for the glittery fans, blush that comes in a sustainable packaging. It is apparently also made with 15% recycled plastic and composed of pre degraded plastic.
Anyways more about the formula, the flush blush features a buildable silky texture with infusions of the 'nourishing jojoba seed oil, sunflower seed oil as well as vitamin E'. It's sensitive skin friendly thanks to the hypoallergenic ingredients along with it being free from harsh chemicals!
If you don't want to leave then tap here to check out more awesome blushers but this time in the form of cream consistency!
Or check out vegan highlighters to complete your makeup look by tapping here!
That's it for now peeps! Your turn now, do you have a favourite blush which you'd like to share? Drop your answers down below!
Have a great day! ?
Please follow and like us: