Are you on the look out for the perfect or near perfect shall I say, vegan glitter eyeliner? Well guess what then you're at the right spot!
Glitter eyeliners can be a great way to add that extra magical touch to any look. And knowing that you haven't hurt a fly makes it more special!
Okay so here are some awesome examples of eyeliners which contain that shimmery magic!
Quick overview
NYX glitter eyeliner
Star gazer sparkle glitter eyeliner
Epilynx glitter eyeliner
Anastasia Beverly hills norvina glitter
Elf cosmetics stardust glitter eyeliner
Soda glitter eyeliner
Nyx glitter eyeliner
Available in six glittery shades, the nyx glitter eyeliner allows you to add a hint of sparkle whether that be over your eyeshadow or on its own.
It is a liquid gel formula, that's said to be long wearing and 'minimal fallout'. What's interesting is that nyx state you don't need a primer to experience it's awesome features!
Don't worry if getting neat lines isn't your speciality as nyx state their brush tip will help you get that flick all thanks to its precision design!
For a more in depth review of the nyx glitter eyeliner, tap here!
Star gazer sparkle glitter eyeliner
The star gazer sparkle glitter eyeliner which is cruelty-free and vegan is a great option for those who'd like to add 'glamour and an eye-catching accent' to their look. The quick drying formula is said to be 'packed with glitter' and colour.
It's suitable for use not only on eyelid but along the lash line too! It's available in six shades including peach, yellow, blue, pink, gold, and silver. These shades have a pearlescent effect making them extra magical!
Epilynx glitter eyeliner
"Bring some sparkle in your life!"
This gel glitter allows you to 'transform' your current eye look into a metallic finish. The formula is highly pigmented as well as waterproof too and long wearing! A great pair to ensure lastage!
The brand state this liner can be layered over your existing eyeliner if you're after a dramatic effect or alone for a splash of shiny colour.
The only problem is that it's only available in a limited shade range, only 2 colours; a purple and yellow gold.
Anastasia Beverly hills norvina glitter
This is a versatile glitter pot, can not only be applied on face but body and hair too! It comes in a loose form and an 'ultra reflective metallic' finish.
The shade range is reasonable too, including colours to cover 'party ready themes and multidimensional effects'. You can expect to find some cool hues like pastel green, iridescent pastel rainbow, lavender and violet grey to name a few.
Elf cosmetics stardust glitter eyeliner
"Transform your existing eyeliner to a metallic finish"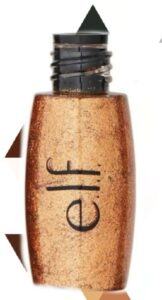 If you're looking for a dramatic effect or wanting a 'sheer wash of glitter colour' then the stardust glitter eyeliner is a great choice with its superfine formula!
Apparently one swipe is enough to show shiny results!
Available in 4 shades; gold, silver, and two iridescent shades, a pinky tint one and a green.
Soda glitter eyeliner
'Turn the music on, put on your celebration smile, and get the eyeliner party started'
The glitter eyeliner also known as guyliner according to soda is a vegan and cruelty free liquid liner with sparkling glitter which you could use to 'show your individuality'!
Available in 7 shades named after famous guys, there's apparently a shade for every mood!
This liner offers a long wearing and rich colour which features a waterproof formula made to last through oils and tears. The ultra fine felted tip brush means you can line tightly along your lash line, whether that be for a simple natural look or a classic cat eye.
The applicator is made up of soft synthetic material, nylon, making it glide across and deposit pigment without any tugging required.
That's it for now peeps! Do you have a favourite brand? Let me know in the comment section below!
Oh and if you somehow aren't a fan of glitter liners than tap here and you'll be on your way to some awesome vegan coloured liners without the shimmerness!
Or if you actually are then check out vegan glitter eyeshadow palettes here!
Have a great day! ?
Please follow and like us: