NYX cosmetics is a great cruelty-free brand however not all their products are vegan friendly. The NYX lip pencil, to be precise, the suede matte lip liner is vegan formulated but not their slim lip pencil. So be sure to check before purchasing if vegan is what you're after!
Okay back to the suede matte liner, if you like to know what's good about this nyx lip liner as well as any problems which may have occurred then please do continue reading!
Quick overview:
Pros
Massive shade selection
Long lasting
Easy and smooth to apply
Good pigmentation
Cons
Cracks easily when sharpening, so be gentle
Texture wasn't as smooth as expected
Disclosure: This post may contain affiliate links which means that I may earn commission if click and make a purchase but no additional cost to you.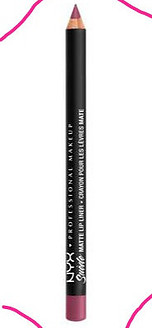 Starting off with what NYX say this product is like…
Description
The NYX suede matte lip liner is designed to match perfectly with the nyxs soft matte lip cream. They are said to be highly pigmented and should be smooth to apply.
NYX state this lip liner makes a perfect base for other matte lippies!
Shades
NYX have a massive shade range for their suede liner, with a whopping 58 shades! Your bound to find your matching liner!
Their shade range include deep rich and light colours, from soft pinks, deep pinks, purples, coral, plenty of browns and nudes, even greens and blues or navy! I'd say they have a shade to cover every occasion.
I currently have the mauve pink colour and it goes perfectly with my current lipstick which isn't from NYX but still matches great!
I'm planning on purchasing their soft matte lipstick which is the original lipstick it's supposed to go with, who knows I'm probably missing out on a great combination!
Lastage
In my opinion a lip liner should last longer than a lipstick, liners are often used as a base for lipsticks which means it must be strong to hold all the weight.
A foundation or base has to be sturdy otherwise everything collapses right? Anyways back to the product, so how did the NYX suede matte liner hold?
I found the liner to be long-lasting, it stayed put well through 5 hours after which then I had to top up to keep the colour looking rich.
As for it's holding ability, the matte lipstick which I applied on top, I'd say it didn't extend the wear time however it did keep it strong. By that I mean the colour of the lipstick stayed vibrant when usually it would have faded.
Application
The liner is pretty easy to use and hold. The pencil is a round shape which isn't bad however I feel like a triangular shape or a shape with edges would make it easier to grip.
The pigment is just right, I wouldn't say 'highly pigmented' but it's not light either. It does well lining the lips but for shading in, it could use some pigment.
I found dampening it a little, helped produce a more rich tone.
The texture of the pencil was okay. 'Smooth' wouldn't be the exact word to use, however it wasn't anything too uncomfortable or too prickly. It would be great if it had a creamy texture though.
Another thing which I noticed about the pencil is that it has a tendency to crack easily when you try sharpening it, so you have to be careful!
The verdict!
Overall I rate this liner a 7/10! It has a great wide range of shades which match well with many lipsticks especially NYX's own line. The lastage is not bad, it does great as a liner and base too.
That's it for now peeps! Going to hand it over to you!
What is your favourite lipstick or lip liner? Are they from the same brand or do you prefer mixing and matching? Let me know in the comment section below!
If you'd like to grab your own suede matte lip liner then click here!
And if you don't want to leave then tap here to check out more awesome vegan lip liners!
Fan of nude lip liners? Then head here!
Have a great day!?
Please follow and like us: