The bare minerals foundation stick more specifically the complexion rescue hydrating foundation is the first clean, water based liquid stick with SPF 25 that's also vegan and cruelty-free!
If you are a fan of the lightness of a tinted moisturizer but want more coverage then you're definitely going to want to check out this foundation by bare minerals.
Stick around to see my favourite aspects of this foundation as well as anything I wasn't a fan of!
Disclosure: This post may contain affiliate links which means that I may earn commission if click and make a purchase but no additional cost to you.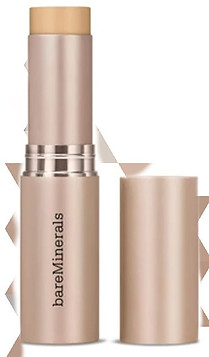 Description
Bare minerals state this hydrating foundation stick is all about achieving clean coverage free from pore clogging oils. It's also formulated with SPF 25 and has around 20 shades.
It's supposedly holds the same hydrating benefits as a tinted moisturizer but with the ability to provide medium buildable coverage all in a lightweight stick form, which is basically all my favourite features in one! So I had to get one!
Bare minerals suggest this foundation stick is suitable for all skin types and an even perfect choice for dry skin! It is made with 'over 30% enhanced mineral water'.
Application
Most of the foundations I've owned have been the usual liquid bottle up forms however I've always preferred stick foundations, they look super easy to use, carry around and not messy!
Though they can't be shared if you apply straight from the stick, they're still awesome.
Okay back to the product application! According to the bare minerals site around 97% of the 63 men and women studied agreed it is easy to apply. So how was it for me?
Well I'd say application is pretty simple and easy! You just pop the cap, twist and get going! You only need one swipe onto each area like your forehead, cheeks, nose and chin. It glides along smoothly and easily.
The bare minerals complexion rescue has a 'easy to blend texture which melts into skin', and to that I can say was true since it did go down effortlessly.
The formula infused well into the skin once I blended it. I used a beauty blender to dab in which didn't require much work.
Coverage
Bare minerals say this foundation provides best a medium coverage, which is what I often build to. I like keeping it light so for that reason I prefer light to medium coverage.
This formula allowed me to build to a medium coverage quickly and without any problems. I was able to cover dark under eyes as well as uneven pigmentation well without feeling tight on the skin.
Light coverage for me is probably best, it covers what I want to be hidden but at the same time appears natural, bit like tinted moisturiser but with reliable coverage that lasts.
What I also love about this stick is, you can double it up as a concealer and even contour! Guess I won't need to carry other products around and I can sneak this around everywhere!
Lastage
The lastage for this foundation is okay, I had to do a few touch ups here and there with light coverage but it wasn't anything too drastic.
With light coverage, it was roughly 4 hours before I had to touch up and medium coverage 5/6 hours. That to me is great!
As for skin performance, I had to blot my eyelids and forehead due to the excess oil but my dry areas were fine. So for combination skin I think it does well. I imagine for dry skins it would perform great.
Overall I rate the bare minerals foundation stick an 8/10! I love how it has similar features to a tinted moisturizer such as the lightness but with more stronger lastage and coverage.
It's lightweight, doesn't cause cakiness and can be used as more than a foundation! Just need to carry one small stick for the whole of my face. What more do I need!
Tap here if you'd like to try out the bare minerals foundation stick!
That's it for today peeps!
Now it's your turn! What foundation form do you prefer, liquid, powder or stick and why? Let me know in the comment section below!
And if you don't want to leave then tap here to check out other vegan concealers!
Have a great day!?
Please follow and like us: