The Fenty beauty lip luminizer came to my grasp when I was on the lookout for something moisturizing for my lips but also with some extra benefits, which in this case is the plumping effect plus sheer tint.
So if you'd like to know how my experiences were with the fenty lip luminizer then continue reading as I go through my favourite aspects as well as anything I weren't a fan of!
Disclosure: This post may contain affiliate links which means that I may earn commission if click and make a purchase but no additional cost to you.
Description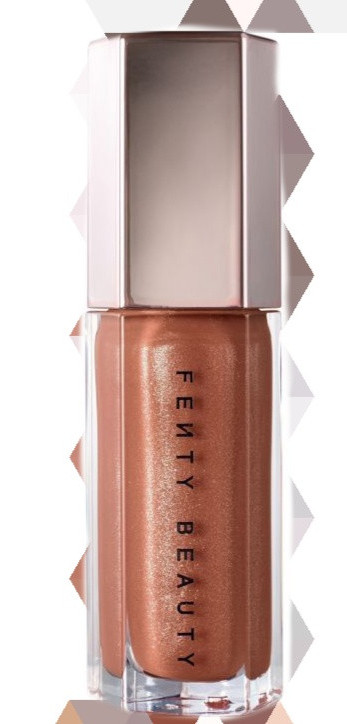 The Fenty lip luminizer is summarized as the product which provides irresistible shine for a plumper looking lips.
With the lip luminizer + plumper you are apparently left with a hint of tint along with fuller looking lips thanks to its 'innovative plump complex', consisting of a blend of ingredients like ginger root oil and capiscum fruit extract.
It delivers an intense wet look shine with a 'lush and smooth texture'. The brand also mention this gloss carries a light peach scent, sounds manageable!
Collection
The glass bomb luminizers are available in 3 different forms, an original lip luminizer for sheer coverage and shine, a lip cream that can provide medium to full coverage and last but not least the luminizer plus plumper for a fuller looking lip with sheer wash of colour.
I decided to go for the gloss bomb heat which is a plumper as well as a luminizer, it was a tough decision between this and the gloss bomb cream!
I mean I could have gone for both or the whole set as there is a mini package available but the thing is I thought of that after I had brought it home, pure definition of a sleepy head! Oh well maybe next time!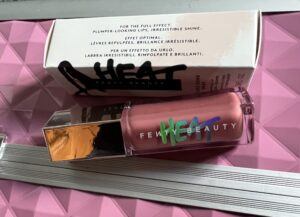 Anyways each finish has it's own set of colours with the luminizer and cream I think having the most, around 7 and the luminizer plus plumper having only 5.
The lip luminizer and plumper consists of pinky shades with a gold shimmer and a brown one too. My choice was the 'fussy heat', a sheer pink.
Application
Application is pretty simple and easy, the formula certainly has a 'lush, smooth' texture like Fenty states which enhances the nourishing effect.
I have dry lips so often struggle to see the nourishing side of lip products, with around an hour being the average time my lips stay calm before deciding it's time to crack.
With the Fenty gloss bomb it was fairly good for the first hour or so and then as expected I had to reapply to keep my lips moisturized.
What I like about this gloss is that it didn't overly dry my lips but instead remained quite soft looking. I didn't also experience any stickiness either which comes with glosses.
Lastage
Of course lip glosses aren't as long-lasting as matte or other forms of lipsticks, they literally only provide shine for a few hours till they have to be topped up so with the gloss bomb I didn't have high expectations.
How long did it last? I'd say roughly 3-4 hours depending on a few circumstances such as if you're eating or drinking as well as other factors. The tint is literally sheer.
And the plumper? Well to be honest that disappeared in the first few instances but I think the subtle shine to it made my lips seem more visible then they actually are. I don't think plumping lasts long anyways, I haven't come across one that does though. Upon first application I did feel tingling along with visible results of the plumping taking effect however like I stated this vanished quite quickly.
Overall
So overall I rate this gloss an 8/10! Though it doesn't provide such a strong plumping effect, I'd say it does better than others I've tried. The results I experienced at first were amazing, if only it had stayed for a while longer, I would be pretty impressed!
Moving on, the actual texture of the lip gloss is nice and smooth. There isn't stickiness to it either. It would be cool though if there were more shades available!
That's it for now peeps but if you don't want to leave then I suggest you tap here to check out more vegan lip glosses!
Or if you'd made up your mind then you can grab it here!
Have a great day!
Please follow and like us: