Are you looking for a brush set that includes everything in one, for you to achieve your best look? Then continue reading this nanshy masterful collection review and search no further as this collection doesn't exclude anything from face brushes such as the powder and blush brush to eye brushes like the shader to the liner.
With this collection you don't have to buy a dozen separate products! For real! AWESOME!
And guess what? They are vegan and cruelty-free. WOW! Don't worry beginners and pros this collection has got you covered!
Disclosure: This post may contain affiliate links which means that I may earn commission if click and make a purchase but no additional cost to you.
Quick overview:
Pros
Don't shed
Easy to clean
Not irritating
Soft bristles
Labelled brushes making them easier distinguish
Cons
Expensive
Don't pack colour as much
Tired of leaving a trail of bristles after every wash?
You know what happens with some of the brushes I have? Well basically I go to the bathroom with my brushes, grab a mild soap and gently rub it into the wet bristles.
Nothing happened! Try again. This time a little firmer. Dirt does wash off a little after I run it under the tap but guess what? Bye bye strands.
A few just wash down the drain and then when the drying comes, a bunch of bristles just disappear. Grrr it's so annoying!
But of course you want to know about the masterful collection. Well then, when you first look at them you're going to be like 'well, they are so soft, how are they going to last' but don't be fooled.
During my whole washing session including the drying, they hardly shed or if they did I was able to count the strand unlike my other brushes where it was too much to count.
To round up, I found it really easy to wash and it was quick, as I didn't have to go clean strayed strands.
Sturdiness = 9/10!
For every skin type
For some reason a few brushes that I use feel hard on my skin but that's not the problem.
It's when I brush across my face, it starts to go itchy and red. Yes red even sometimes can be seen through the foundation. OK that maybe a lie, but it does go red and itchy.
Thanks to this set though, my skin is so much happier as it's not irritated. These nanshy brushes are really friendly for all skin types even sensitive they state and it's true. The brushes are so soft you feel like brushing it across your face forever.
Gentleness = 9/10!
Is it worth the price?
In my opinion, it's totally worth the price.
If you look at it this way, before I would have to buy lots of individual brushes (probably some of you do too) and sometimes sets with prices ranging from £7.00 to £20.00 or more each, just so I can get that one great brush to achieve a flawless eye shadow whereas with the masterful collection all the brushes needed are all under one reasonable price.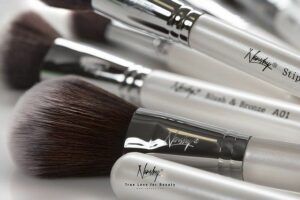 Little things like the handles being light and responsibly sourced as well as the labels on the handles, showing what each brush is used for makes it even more worth the price.
Worth it? = 8/10!
To conclude
If I have to look for an improvement it would be something weird which is the colour range. If various colour sets were available I would love it, I like colour coordinating, but maybe that's just me being too picky. I mean at least it's in shades that are quite versatile; black and white, they blend well with every colour right?
Another fault which I found was the brushes don't pack as much colour as I'd thought but no biggie at least they feel nice on the face and I've also noticed they don't aggravate my sensitive skin.
Sometimes brushes in the past have made my skin all itchy and red but I'm glad this wasn't the case with the nanshy set!
Overall, the nanshy makeup brushes did a great job of blending and packing colour was manageable too, the crease brush and blending one were the best at that and probably my most used.
For the face my favourite would have to be the contouring brush as I can use it for blush and contour. Double useful!
So if you have either been having similar problems like me or you are looking for a set that's worth the price then you can check for yourselves by clicking here.
Thanks for reading peeps as usual if you have any questions or have any suggestions like a particular review then please do drop them in the comment section.
You can take a look at other awesome vegan makeup brushes by tapping here!
Or of you want to know a little secret then click here to see what your makeup brush might be made of!
Have a great day or night wherever you are?? and most importantly stay safe!
Please follow and like us:
Review Date
Nanshy masterful brush collection
⭐⭐⭐⭐





Product Name
Nanshy masterful collection
Price
Product Availability