Hey everyone, in this post i'm going to be talking about, you guessed it (if you didn't thats fine), best vegan makeup brushes which are also obviously cruelty free.
Do you know the difference between vegan and non-vegan brushes?
Well let me tell you there is a major distinction between them, vegan brushes are made out of synthetic fibres that aren't subtracted from animals so no cruelty is involved and they can live happily.
Instead they are made out of usually nylon or other similar fibres.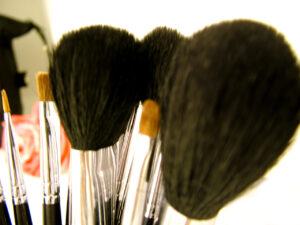 On the other hand, brushes that arent synthetic or state are natural are sadly made out of animals hairs, from horses, minks, squirrel and many other poor animals.
These animals go through such great lengths of pain and suffering that's not worth at all! so that's one of the many reasons this post, best vegan makeup brushes, has been written.
Click here for more info about synthetic makeup brushes and natural brushes And what they are made of!
With vegan and cruelty free beauty becoming more and more popular, I decided to list you a few of the makeup brushes or brush sets to make it a little easier. so we shall begin:)
Kat Von D
Right peeps let's start off with Kat von d beauty as it hosts a range of vegan makeup brushes. The brand displays brush sets as well as single brushes (in case your only looking for one specific brush) for both eyes and face.
There are single brushes for contouring, highlighting, concealing, whatever it is you need.
You can even get brushes for specific foundation texture whether its powdered or liquid. Just pick the one that suits you.
Inika
Moving on to Inika which is an organic brand that has one of the softest fibre bristles which once you put on your face you woudn't want to move it away. ahhh.
All of it's brushes are vegan and cruelty free. You can get sets as well as individual brushes to suit everyone. For example the vegan brush roll is a great set for begginers as well as pros or if your really serious about makeup.
Single brushes include a vegan contouring angled brush which can be used for applying and blending to perfection both cream or powdered contour.
Oh and you'd want to know this, the handles are made out of wood. Don't fret, they are from a sustainable forestry. YIPEE!
Urban Decay
And we're onto the third brand which is Urban decay. They have single brushes only but you can still get all the various types of brushes which you'd usually get in sets.
From eyeshadow brushes ranging in sizes, medium to large, to tightline brushes for lining your eyes, as well as contour and foundation brushes.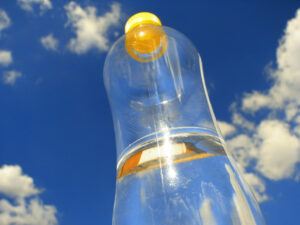 What I think and I'm sure you think too is cool is that they even have a finger brush, which literally mimcs a finger (at least now your fingers can stay clean)and whats even amazing is that it's synethic bristles are made out of recycled plastic bottles. WOOP WOOP! we're getting somewhere.
Too Faced
Too faced has it's own family of makeup brush collection for face and eyes that are vegan and animal cruelty free.
Some may say they have a few but they have beautifully designed brushes that can work well with wet and dry formulas.
Their pro essential teddy bear hair, which feels really smooth, brush set can be used for both your eyes and face. And it comes with a makeup bag to make carrying easier.
Ecotools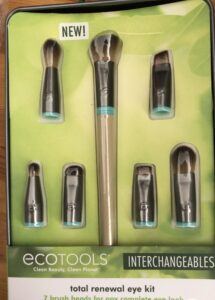 Ecotools is made by sisters Jen and Stacy. And you know what they really care for the environment that's why they come up as one of the best vegan makeup brushes brand. Not only that they are also really affordable and easily accessable as they are available in most drugstores making it great for anyone and everyone. YAPEEE!
You probably want to know how do they care for the environment? well guess what their handles are made up of sustainable bamboo and other materials that are recyclable.
It doesn't stop there, their packaging is also made up of recyclable materials!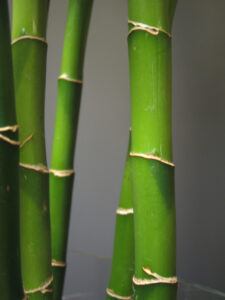 Going onto the brushes that they have available, it's hard to choose just one brush or set as there are just sooo many! From foundation application to eyes there's everything.
Tap here to view more on their eye brush set!
Dose Of Colours
Dose of colours has it's own vegan section on it's website. cool right?
They present 14 individual brushes which include blush brush(tongue twister), blending brush, concealer brush, pencil brush and a bunch of other useful brushes which you'd use for application.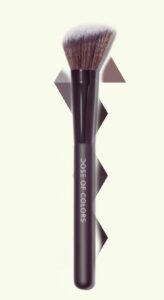 If you want a set, then they do also sell face set and eye set.
Their eye brushes can be used with powders, gel or cream products which is great isn't it as you won't need to buy lot's of different brushes to make sure your applying it perfectly.
Morphe
Morphe has a massive 18 piece brush set, that of course is of high quality and is vegan. It contains everything you need whether it's something basic or more professional. Another thing is that they come with their own case all wraped up neatly.
Don't worry if your looking for a specific brush as you can also get individual brushes which you can look up on their website.
Nanshy
Nanshy is a completely vegan and cruelty free brand that sells make brushes. At the moment they only sell makeup brushes.
You can expect to find makeup brushes that come in a set or if you like individually, big or small. They have one of the softest bristles ever!!!
If you'd like to read a full review of one of their brush set, nanshy masterful collection, then click here!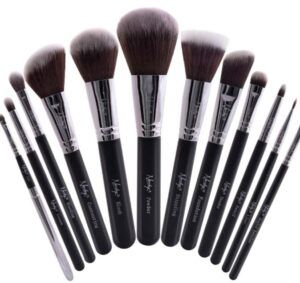 And many more
So here you go lovely peeps, these are just the very few of the best vegan makeup brushes out there in the big wide world!
SO many animals are being killed in the most painful and inexcusable way just for human use which isn't neccesary at all as there are many other alternatives out there which are not only safe for the environment but also more benficial.
Slowly but greatly vegan and animal cruelty free beauty products are becoming more and more popular. WOOHOO!
Thank you for taking your time reading it to here (maybe you skipped some parts but still) and hope you got some useful information from here.
Which brushes do you prefer synthetic or natural or do you have a favorite makeup brush spill them out below and if you do have any suggestions or any questions, leave them in the comment section and I'll get right back to them.
Have a great day! ?
Please follow and like us: