I decided to purchase the bh cosmetics brush set when I got tired of stuffing my usual sized brushes into, let's say already cramped spaces. I saw bh cosmetics selling a mini set and thought why didn't I think of that first!
So without wasting any time, I unhesitatingly added it to my basket and a few days later it came through. Okay so how did it perform?
Read on to find out what my favourite aspects of this product were as well as any issues I had with it!
Quick overview:
Pros
Great at applying products
Soft bristles
Didn't aggravate my sensitive skin
Good at blending
Cons
Bristles tend to fall out every now and then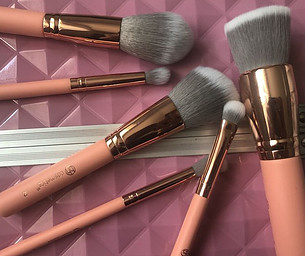 The set comes with…
The bh cosmetics mini brush set offers six mini brush collection, along with a peach coloured matching zip up case, so cute if you ask me.
I like the bag, all the brushes fit in perfectly, instead of having to add them in the usual sized case where they would have looked out of place.
The collection includes a flat top buffing brush, angled blush brush, contour brush, a fluffy shader brush, a blending and pointed crease brush. As this is a mini set they're all of course miniature.
Flat top buffing brush – The flat top makes it suitable for building coverage easily, making it great to use for foundation application or any other liquid, cream or powdered product which requires large areas to be covered.
Angled brush – I use this brush to apply blush and sometimes even contour, it does have an angle to it which makes apply and blending on the apple of the cheeks easy.
Contour brush – I use the contour brush to blend my contour, I usually pick the angled brush to deposit the product and then switch to this brush to blend, it does a pretty good job.
Shader brush – The shader brush is perfect for applying eyeshadow to the lids, the fluffiness helps soften the shadow, getting rid of any harsh lines. I also use this brush to add concealer under my eyes and blend, it's the perfect size!
Blending crease brush – After adding colour to the lids, I then use this brush to add depth in the crease, it packs a good amount of colour so if you need to add definition, this brush is the perfect tool for that.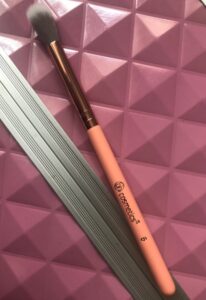 Pointed crease brush – The pointed crease brush also does well in adding depth especially by the outer v and crease. Since it is a little dense, it tends to pick a lot of pigment so tapping of excess and starting with a little of the product is a good idea.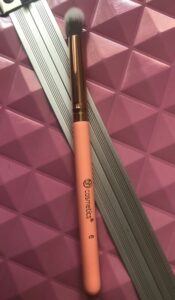 Application
I found applying products with these brushes quite easy and they were gentle too! I have sensitive skin so with some brushes in the past I'm often left with aggravated skin, that includes itchiness and redness!
I would like to think it's most likely due to the hard bristles.
But you know what I'm just glad this wasn't the case with the bh cosmetics bristles, they were definitely the opposite, soft but effective!
So how well do the brushes perform?
Performance wise I would give them a 7/10! The brushes I liked the most were the flat top buffing brush and the shader brush.
They are also my most used ones too. The flat top one does well applying and blending, so does the blending crease brush.
If I had to pick my least favourite it would have to be the blending crease brush and the angled brush.
The blending crease brush doesn't pick enough pigment, often needing double dips and as for the contour brush, it's mostly due to me using it less often than its actual performance.
But all in all they do a decent job considering the affordable pricing too!
Any cons?
I like the brushes, they're nice and cute, with a great colour choice however if I had to look for a fault, I think the brush fall out could be improved.
When using the brushes I found they do tend to shed quite noticeably, especially the smaller ones. This ment I had to clean them quite carefully as to not loose any extra bristles.
The flat top/foundation brush which I use quite often, is probably the sturdiest, I haven't experienced as much fallout with it compared to the others.
Another thing is, I am not sure if its my current makeup brush cleaner or the bh cosmetics brushes but they tend to stain quite easily with no chance of giving away!
Overall
So overall I'd rate the bh cosmetic brush set an 8/10! They are a perfect size for travelling or when you don't have enough space for large brushes.
I didn't have many problems aside from the shedding, they do a great job in applying and blending. They didn't aggravate my sensitive skin too!
If I was to travel somewhere I would definitely pack them with me!
That's it for now peeps, you have reached the end of the bh cosmetics brushes review! If you have any questions or suggestions then please feel free to drop them down below!
And if you don't want to leave then you could check out more awesome makeup brushes by tapping here!
Have a great day!
Please follow and like us: