Check out these best eyebrow kits which will help you achieve that dream brow goal in no time. What's more is they are easy to carry around so you're always ready!
Brow kits usually feature a brow pigment either powder or cream, applicator and with some cool ones containing extra products like setting powders, mirror and even tweezers!
These products are either vegan or cruelty-free! So let's begin!
Quick Overview
Barry M brow kit
ELF brow kit
Makeup revolution ultra brow
Body shop brow and liner kit
Barry M brow kit
The Barry brow kit features two powder shades plus a brow soap which is to be used to set hair in place for an all day long wear. This brow kit comes in three different shades; light, medium and dark. Barry M this kit is 'everything you need to enhance your brows'!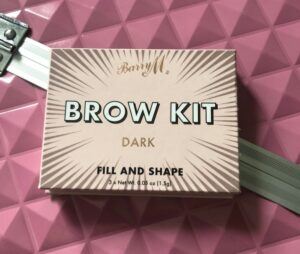 With a dual ended applicator, the mini brush provided with the kit allows you to 'lightly fill in sparse areas' of the brow whereas the other end of the applicator features a spoolie to create 'on trend feathered' look.
You can view how the Barry m brow kit performs by tapping here!
This super affordable kit coming under £5 or $7 is also available in three colours: light, medium and dark. The brow compact contains a pigmented wax for shaping on one side with a setting powder to complement beside it for defining.
This eyebrow kit also comes with it's very own handy mirror so you're always ready on the go should you require any touch ups. The applicator for the elf kit is also double ended with taklon bristles. All of elf products are free from junk like phthalates, paraben, sulfate and much more!
Makeup Revolution ultra brow
The ultra brow kit by makeup revolution features 3 colour choices, fair to medium, medium to dark and extra dark to black. 'Amazing palette to truly bulletproof your brows' is what the brand state this kit is about!
The palette contains a good amount of product with four eyebrow powders that are said to be blendable and two tinted eyebrow wax but that's not all!
Also, included in the eye brow kit is and eyebrow enhancing cream, highlighter for brow bone, pencil, mini tweezer and an applicator! Oh and did I mention a full size mirror! WOW! Now that's what we call a kit for all eyebrow needs!
Body shop brow and liner kit
The brow and liner kit by body shop as you can tell by the name can not only be used for the brows but eyes too! With the mini kit comes a dual ended applicator suitable to use as liner and brow brush.
'Define, shape, fill and line' made easy with the silky smooth textured shades for a 'faultless finish'. By the way they're both ophthalmologically and dermatologically tested too! Available in two shades; brunette & brown, brown & black.
Right I'm afraid that is it for now peeps but f you don't want to leave then why not check out vegan brow powders by tapping here!
Have a great day!
Please follow and like us: