The Barry m brow kit came into my grasp when out shopping, searching for something a little different to my usual brow product which is currently a brow gel.
I haven't used brow powders or other forms of brow products before so I decided it was time for a little change. So if you'd like to know what my thoughts were on the brow kit then please read on as I go through my favourite aspects as well as anything I wasn't a fan of.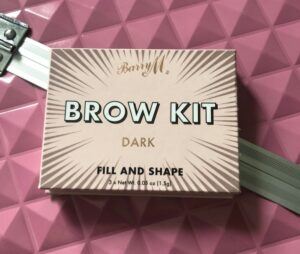 Beginning with what the brand say this product is about!
Disclosure: This post may contain affiliate links which means that I may earn commission if click and make a purchase but no additional cost to you.
Quick overview:
Pros
Powder deposits easily
Pigmentation is just right
Lastage is reasonable
Cons
Limited shade selection
Brush is small
Does fade towards the end
Description
Barry m state their brow kit will help you fill and shape your brows, it's apparently 'everything you need to enhance your brows'. The kit features a brush which you could use to create small 'feathered strokes' to create the desired fullness.
The powder is to be used for filling whereas the soap can be used to help set your brows in place. So let's see how it performs now, continue reading to find out!
Shades/collection
Barry M hold 3 brow kits in their collection. You can choose between light, medium and dark. I decided to purchase the dark palette for my dark brown brows.
I think the dark kit is great for dark brown or black hairs whereas the medium suits light to medium brown hair. The light kit is suitable for light or blonde brows.
Each kit comes with 3 small cases where the pigments are packed. Two are brow powders, one lighter than the other so you get to pick between the two which match best with your hair and the last compartment is a soap, which is apparently ment to be used to keep brows in place.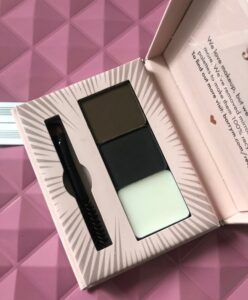 You also get a spoolie to help brush the soap into your brows.
Application
The powdered brow comes with a small applicator, a thin brush on one end, and a spoolie on the other.
I usually use brow gels, which are often applied using brushes, so for me using the spoolie and the small bristled brush was going to be a little different.
I feel like they require more attention and steadiness which is definitely not my expertise.
Anyways back to how the application was, so overall I found it a little tricky at first, the brush seemed quite small however after a few tries I got the hang of it.
Though I did manage to successfully fill my brows with the original applicator, I preferred using my own brow brush, which is a lot longer, allowing a more comfortable grip.
Anyone who is used to using small brow brushes, I think would definitely find it easy to apply. The powder does nicely grab onto the bristles and deposit evenly onto the brow. It matches well with my natural hair colour too! The brush itself is, I wouldn't say super sturdy but it certainly isn't as weak as I was expecting like the usual flimsy applicator.
The pigmentation is in the middle, neither too strong nor too faint. It appears a little waxy but has a powdery feel to it and look once you start applying.
As for the soap, I haven't really gave it a go, the time I did, I didn't notice it making any difference lastage wise however it did have some great hold. The soap does leave some residue at first but thankfully disappears soon.
Lastage
I haven't used powdered or waxy substances much before on my brows so wasn't too sure in what to expect lastage wise. However, I was pleasantly surprised when it got through half the day quite well without any problems.
The only issue I had was towards the 7th hour, the pigment started to fade and transfer easily but other than that I had a positive experience.
Overall
Overall I rate the brow kit an 8/10! It has a good pigmentation, lasts long enough and goes down well. However, I would give it full points if the soap was a little less subtle when applying and the brush just slightly tweaked but other than that I'd say it's a great affordable product.
So would I stick to my usual comfort product, that being brow gel or has my mind set on powders now? Well I think I shall stay with the gel for now but from time to time give powders a go too.
To purchase your own brow powder tap here!
If you don't want to leave and are a fan of brow pomades then tap here for some awesome vegan examples!
Or if you prefer powders like this then you can check out more here!
Have a great day! ?
Please follow and like us: