Brown eyeliners help give a soft appearance to the eyes as well as the whole makeup look whereas black liner provides a sharp effect. So if you want to add depth but nothing too intense then I suggest you check out these best brown eyeliners that are vegan friendly too!
Let's get rolling!
Quick Overview
Inika organic eye pencil
Urban decay 24/7 glide on eye pencil
Kvd beauty tattoo eyeliner
Makeup by Mario master pigment pro pencil
Inika organic eye pencil
The inika organic eyeliner is a great organic product especially for sensitive eye peeps since it is 100% natural according to inika. It's silky consistency creates a soft and smooth gliding application with even rich pigment deposited along its path, certainly one of the best brown eyeliner out there!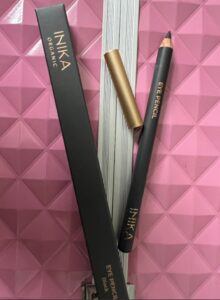 With ingredients like vitamin E and organic coconut oil, this eyeliner boosts skin health. The addition of carnauba wax further extends the liner's strength and gives a water resistant finish. Whilst the mineral formula provides nourishment to the delicate area around the eyes thanks to the 'conditioning botanical extract'.
This liner is available in a brown shade, as well as green and black.
How does it perfom? Check out the full review here!
Urban decay 24/7 glide on eye pencil
Featuring an 'ultra creamy' formula, the urban decay eyeliner glides on smoothly as well as blends with ease, leaving an intense pigment that's here to stay. The liner stays creamy for around 30 seconds, giving time for you to blend before drying down.
The massive shade range along with different finishes including metallic, satins, and shimmers, makes this liner a great option to let loose some creativity! And how can you just pick one!
The addition of vitamin E, jojoba oil and cotton seed oil makes it a great formula!
Kvd beauty tattoo liner
The brands number 1 selling product also having won over 20 awards according to them, promises to offer a high performance with long wear, smudge resistant as well as waterproof results!
It features a 'ultra fine' brush tip enabling it to fit nicely between each lash creating a smooth line free from gaps. The tips flexibility adds greater control over how you prefer to line, thick or fine. A cool thing about this brown liner is that you could use it for more than just lining your eyes, create faux freckles, brows, body art and much more!
You can check out a full in depth review of the tattoo liner here!
Makeup by Mario master pigment pro pencil
The master pro eyeliner is a dual ended pencil liner that apparently has 'everything you need to create a precise line with fast, easy and accurate application'!
The master pro is said to provide pure colour intensity with a long-lasting wear that's comfortable too thanks to its unique blend of waxes, giving a velvety feel and gel like texture. The dual end features an eyeliner on one end and a brush created for blending and smudging on the other. The pencil even comes with a sharpener too, how generous!
Beauty pie deluxe precision eyeliner in Java brown
The beauty pie deluxe eyeliner in Java brown is the 'ultimate eye lifting' precision liner according to the brand. It provides you with a velvety finish with a luxury touch. The precision tip allows for an 'perfect glide', depositing a pigment rich hue that lasts all day with an intense colour.
The applicator is designed to hug your lash line for flawless look every time! With results that are also smudge proof as well as water proof! The deluxe liner proudly state it does not include junk like Parabens, phthalates, formaldehyde and certainly no animal derivatives or talc!
Okay that's it for now peeps over to you!
Do you have a favourite brown eyeliner which you would like to share!
For brown mascaras to match the subtle look you can check them out here!
If you prefer the rich pigment of liquid eyeliners then I suggest you check them out here!
Or those looking to awaken any eye look should check out these white eyeliners!
Have a great day!
Please follow and like us: