The Charlotte tilbury contour wand is an award-winning product according to the brand. To be honest I don't use contours much if any. So why did I buy it? Well since I hardly have any contours, I thought why not treat myself to one that's on the safer side on performance wise.
Anyways here's what I liked about the Charlotte tilbury contour as well as anything I weren't a fan of!
Disclosure: This post may contain affiliate links which means that I may earn commission if click and make a purchase but no additional cost to you.
Quick overview
Pros
Smooth consistency
Good pigmentation
Blends well
lightweight
Cons
Limited shade range
Tricky at first to use
Description
The Charlotte tilbury contour wand is described as a lightweight product that allows you to achieve 'sculpted mega-watt cheekbones instantly'! It features a unique cushion applicator that is created to dispense and provide even coverage of product. The formula is blend-able as well as buildable which is ideal for producing a natural contour! Something we all want right?!
The addition of siloxanes apparently creates a lightweight and gives the formula a silky smooth feeling. The brand state their contour wand creates shadows and allows you to define features leaving a natural finish.
So let's see how it actually performs!
Shades
The shades currently available are only; light to medium which is a light creamy hue, and medium to deep that is labelled as dark creamy. I am not too sure if there is a shade catered towards fair skin tones though, there doesn't appear to be though.
Anyways I went for the light to medium shade, I have a cool undertone too and so far I think it's going great. The shade fits well especially if I use the correct amount. Going overboard with the quantity will effect the way the shade blends seamlessly with your skin shade.
But overall I would say it does go with quite a diverse range of skin tones which is a great since the shades are limited.
Application
Not going to lie, I was pretty excited to try out the new Charlotte Tilbury contour wand after learning about it's cushion applicator. I haven't tried this style of application before so it was going to be fun!
On their site the brand do give easy to follow steps on how to best apply the contour. So since I don't apply contour much I think it would be a wise decision if I actually go with it.
Like the brand state, I sucked my cheekbones in and gave a sweep of the magic wand horizontally on the hollows of my cheeks. Now I could have gone for the nose too but I thought I'd stop there instead of getting too excited. I applied some on the forehead though and a little under the jawline.
Okay so how was the experience? Well it was certainly easy, the formula flowed out smoothly. The soft applicator certainly felt like a soft cushion! I definitely prefer it over the prickly brushes but then I still had to use a brush to blend to a natural finish. Blending was effortless, the formula wasn't too thick, more creamy like mentioned.
Oh and don't forget to shut the applicator at the end by twisting it, which I was thankfully reminded through the website!
Lastage
I wasn't too sure how long the contour wand would bless me with its performance, plus Charlotte tilbury doesn't mention any clues as to how long it'll last.
This was going to be interesting! Or more of a waiting game!
Well how good is the lastage. It roughly got through around 5 hours of intense hours till the hue gradually faded. It's not bad, I've experienced many that barely made it past the second hour! The gradual even reduction of the pigment was no bother for me since it did look more natural than a blotchy one!
As for how long the whole product will run for, I would say around 6-7 months at the rate which I use it at. I don't use it daily, maybe a couple brushes here and there in a month. If you use it regularly I would suspect it to go for 3-4 months.
Overall
So after some experimenting I give the Charlotte tilbury contour wand an 8/10! It has a nice consistency and the pigmentation is just right too.
The cushioned applicator was a joy to use as was the results once blended which is easy too! But it would be cool if there were more shade varieties available and maybe more product packed in the wand. You can check out the Charlotte tilbury contour wand here!
If you don't want to leave just yet then I suggest you tap here to check out the charlotte tilbury lip cheat here!
Or for more contour products I suggest you check out these defining sticks here!
Have a great day!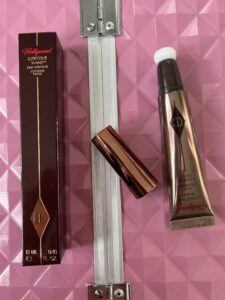 Please follow and like us: