Contour sticks are great, they're not only travel friendly, you also don't require many tools just the stick and maybe a brush to blend otherwise you can use your very own blender, in the form of your hand! Anyways lets check out what some of the best contour stick is!
Makeup by Mario contour stick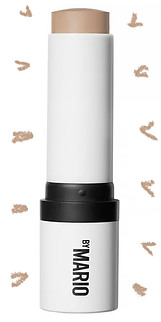 The creamy formula of the Mario contour stick allows for easy blending and can be built up on. This contour stick gives you the ability to create 'soft, natural-looking definition'. Though the consistency is creamy it dries down to a natural matte finish.
The design of the product is quite thoughtful, featuring an angled buffing brush that is removable for cleaning! No hassle! The clever applicator is created for an even product pick up with 5 small nibs located within the head.
It gives you the choice to pick between 6 shades, ranging from light, for fair to light skin tones to medium, medium dark, dark to dark deep, suitable for dark to dark deep skin tones.
Why not check out the full review here!
Barry M chisel cheeks contour cream sticks
According to Barry M their contour creams are perfect for achieving 'sculpted, flawless and defined'. The sticks are individually packaged. The light stick is to be used to highlight high points such as under eyes, forehead as well as nose. Whereas the darker shade is ideal for creating a sculpted look through blending on your jawline, or hollow of cheeks.
The Barry m chisel cheek contour cream sticks are super blendable and have been created to adapt to all skin tones to provide 'perfectly sculpted features.
Pur cameo contour and highlight stick
The pur 2 in 1 dual ended, contour and highlight is created to add depth and dimension to your already natural features. It works by emphasizing your faces natural highlights along with shadows through 'natural, light-reflective micro spheres' which calls attention to your best features whilst minimizing others. The creamy consistency gives the contour stick an easily blendable formula, setting to powder.
This product is gluten free, making it suitable for those who are sensitive to this substance. It features ceretin complex with retinol and ceramides for super hydration as well as age defying properties, smoothening lines along with wrinkles. It is also free from parabens! oh forgot to add this contour stick can apparently be used as a foundation too! I'd call it a 3 in 1 then!
NYX wonder stick highlight and contour stick
'Shape, brighten and blend' with the NYX wonder contour stick! This product is dual ended, with a deep shade for creating natural contour and a light for highlighting.
In the brands contour line there are 8 shades including fair, medium and deep rich with each one having different intensities too!

The sleek design makes the sticks not only easy to hold but allow for more control. Each shade possesses a high pigment so less certainty is more! Plus the creaminess allows for easy blending, so blend, blend, blend!
Revolution pro goddess glow cream contour and bronze
'Contour like a pro' with the revolution pro goddess glow cream contour stick that also doubles up as a bronze too! Extra useful! These magic wands come with a cushion applicator that is said to be easy to use, allowing you to sculpt, add definition achieving an overall contoured look! 
Just swipe as well as blend with the built in cushion for an even application. The formula is buildable with the creamy formula being lightweight too! The goddess is available in 3 glowing shades, light, medium and dark. Ingredients include vitamin E, hyaluronic acid as well as shea butter!
Right that's it for now peeps!
If you would like to check out bronzer in stick form to help you add that sun kissed look then tap here!
Have a great day!
Please follow and like us: