After hearing that the elf sheer slick lipstick is one of the brands best-selling and being a sheer tint I decided to get myself one, since I am a fan of lightweight or hydrating lip products, all mainly thanks to my lips being overly dry at unexpected times. And if you are aware of the brand, you would know they are budget friendly, thankfully!
As for quality, well they don't disappoint either, I have previously enjoyed the elf eyeshadow as well as their eyeliner!
Anyways shall we begin the review! So here are my favourite aspects as well as anything I weren't a fan of!
Disclosure: This post may contain affiliate links which means that I may earn commission if click and make a purchase but no additional cost to you.
Quick Overview
Pros
Smooth to apply
Nice consistency
Lastage is reasonable
Soften lips
Subtle hint of colour
Cons
Currently small shade range
Description
The elf sheer slick lipstick is described as a 'silky, nourishing sheer lipstick' by elf. It's leaves lips with a subtle hint of colour as well as sheen which according to the brand is 'gorgeous'.
The consistency is silky with some creaminess to it, baring some resemblance to a mixture between a lipstick and lip balm, which should give it a hydrating property and add some softness to your lips. Definitely something I am after.
To help give the elf sheer slick lipstick nourishment, the addition of meadow foam seed oil as well as vitamin E should strengthen it. These ingredients are said to soothe dry lips along with keep them moistened for longer. Do you want to know where the inspiration comes from too? It is pretty peculiar but cool at the same time.
So apparently it is inspired by the 'first bite into a juicy piece of fruit such grapefruit', there words exactly!
Anyways shall we get on with the review now!
Shades
The shade range currently is really limited with only 2 shades, that happen to be 'orange' and 'jam or jelly' which are the exact colour you are probably thinking. Orange is orange and jam or jelly is a light rosey shade. For the moment the shade range is a con in my opinion.
According to elf cosmetics though you shouldn't worry as there are new shades in the making! Landing in spring 2023. Around 4 more shades will be available which would bring the total to 6 options. I know that isn't as large as we would want it but it is better than 2.
So what shade did I jump too? Have a guess! It is 2 after all, one or the other.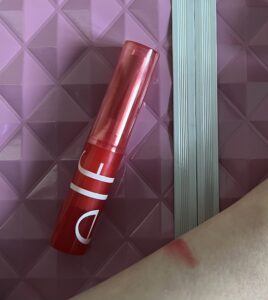 Okay so initially I wanted the jam or jelly colour however it was out of stock, yep I couldn't wait so I went for the only other shade available, orange. It isn't exactly the orange shade you are picturing, it has some pinkness to it. I actually like orange, works great for a natural or daily look, subtle yet a hint of colour.
Lastage
This lipstick is a sheer finish so I wasn't expecting it to excel in the lasting game. It roughly made it through 2 hours of subtle hue before I had to reapply. Since this shade is quite similar to a natural lip colour, it isn't that noticeable when it does start to fade so reapplication regularly is required.
As for its moisturising benefits, I would say it does better then the colour payoff. My lips were kept hydrated for 3-4 hours but I also think the atmosphere plays a role too. You see I have quite dry lips, combined with the often dry air in my work area, that is bound to spell disaster! I would say thought elf sheer lipstick did tame them quite a bit so an overall satisfactory performance!
Application
Application I was certainly expecting to be as easy as can be since the brand do mention many times that their sheer slick lipstick is smooth and creamy. Plus they state it contains a good infusion of natural oils, which you would only expect to be gliding to your commands, right?!
So were they right to say so? I can tell you they did stay true to their word. The sheer slick lipstick was smooth to apply. 'Somewhere between a lipstick and lip balm' is maybe the closest way to describe the feeling when applying. I would recommend moisturising beforehand though, to make the most especially if you have dry to really dry lips!
Overall
So overall I rate the elf sheer lipstick a 7/10! Application is a breeze, like the brand state 'somewhere between a lipstick and lip balm'! The infusion of vitamin E along with meadow foam seed oil adds a nice texture to the lipstick too. Lastage is one of the products weakness though since retouch was quite frequent.
The limited shade range is a downside, it would be awesome if more were available! If you do have overly dry lips then prepping them first certainly makes a difference in performance.
You can check out the elf sheer slick lipstick for yourselves here!
If you are a fan of sheer lipsticks then I suggest you tap here to check them out!
Have a great day!
Please follow and like us: