I made the decision to purchase the e.l.f volumizing mascara a while back, when I originally went to grab myself the elf satin eyeliner pencil. And if you are familiar with elf you'll know they are a great example of an affordable makeup brand. Not only that, they are vegan and cruelty-free too!
This also means I'm more likely to go on a spending spree. Teeheehee!
Disclosure: This post may contain affiliate links which means that I may earn commission if click and make a purchase but no additional cost to you.
Quick overview:
Pros
Waterproof
Does add volume to some extent
Easy to apply
Removable with makeup remover
Quick drying formula
Cons
Started to crumble a little towards the end
Okay time we get rolling!
Let's start of with the packaging, the elf waterproof mascara is situated in a black plastic tube which has a little gloss to it.
The tube is all one shade with the 'elf' initials at the bottom. To summarize it's a simple design.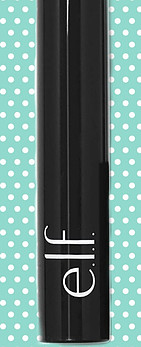 Is it waterproof?
The elf mascara is ment to be waterproof as you can tell by it's full name, elf waterproof lengthening and volumizing mascara.
To me a waterproof mascara is the one that doesn't start to flake or smudge when I'm minding my own business. This includes lasting through heavy chores where I start to sweat, exercise whether that be at home or gym and humidity.
A good waterproof mascara should definitely be long wearing otherwise what's the point of considering it as waterproof.
Okay now time for the product talk. So is it waterproof?
Well I would consider it, judging by the experience I had. I decided to apply it on a moderately busy day. That day did involve quite a mixture of elements.
There were blood, sweat and tears, okay maybe not blood but definitely sweat and tears. Here are the results:
Quick jog= got through
Cooking which involved a lot of steam & heat= still fine apart from a tiny speck of smudge.
A water splash from washing my car= still there
Second round of water splash = just about hanged on. It did transfer onto my hands when I gave my eyes a rub to get the water out.
Well I was pretty surprised and impressed to say the least that such an affordable, at under £5/$6, product can fulfill my and others demands.
Does it add volume/length
The main reason why I purchased this elf mascara was because of it's waterproof ability.
So the volumizing and lengthening feature was just an extra quality which I'm not too bothered about due to me already having thick lashes.
But as I was wearing it, I might as well record it right?
Volume – yes but after a few swipes
Lengthen – definitely visible
Ease of application
I really like the way this brush is designed. It has a slight curve to it rather than a straight shape.
You are probably wondering well how does that make it any better.
Well the curved shape and the shortening of the bristles towards the edge makes coating the shorter lashes so much easier.
Getting the lashes in the inner corner as well as the bottom lash is mess free thanks to this wand.
When elf stated they improved the brush head for an enhanced performance, they sure weren't kidding and the edge to edge control.
How easy is it to remove?
This mascara is easily removed with makeup remover however it has to be a remover made for waterproof formulas otherwise you will find it takes a little while.
Water isn't effective, it'll just ruin your lashes by rubbing them.
Another favourite aspect about this product is that it dries quite quick, so when I'm in a hurry, this is a suitable option.
Overall performance
Overall I'm amazed with the performance. I would rate it a 9/10! There were no clumping, dried quick and lasted majority of the day, not to mention it's successful waterproof ability too.
There weren't no major smudging apart from when I had to give my eyes a rub, other than that it was fine. My lashes were also left visibly volumized as well as lengthened eventhough I have naturally thick lashes.
What do you think of elf? Do you have a particular favourite product from the brand?
You can check out more awesome totally vegan mascaras by tapping here!
Have a great day!?
Please follow and like us: