You may have heard about inika, the all organic, vegan and cruelty-free brand, if you haven't don't worry as you'll get a little taste of what they're about in this inika long lash mascara review. (obviously not literal taste, you know what I mean).
If you're looking to lengthen and volumunize your beautiful lashes but with '100% plant-derived and natural ingredients' then please continue reading to find out if this, inika long lash mascara is your long-lost friend as well as my favourite features and the not so smashing side of this product in my opinion.
Disclosure: This post may contain affiliate links which means that I may earn commission if click and make a purchase but no additional cost to you.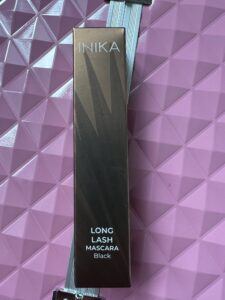 Packaging
Let's start with the obvious one, packaging. I'm not sure how many of you consider packaging as important but I know I definitely do.
What I mean by packaging is how eco-friendly they are and other little things.
The design isn't so important but is just an added bonus for me, knowing that I'm not going to keep a nicely designed packaging after I'm done, (or maybe I will) although there is a slight importance to it because it's what kinda attracts you to pick up a product and buy it.
Okay where was I, oh yeah, the packaging of inika is great help to the environment as it's recyclable as well as the plastic tube. YAY!
I don't know why I feel happy when recycling instead of chucking it in the bin. The design of the box isn't bad either, simple matte black with golden printing.
100% natural-does it help?
Obviously it being 100% natural, containing no harsh chemicals and synthetic preservatives makes it apparent your eyes are safe and will benefit from it but I want to address a little problem of my own which I think inika helped solve.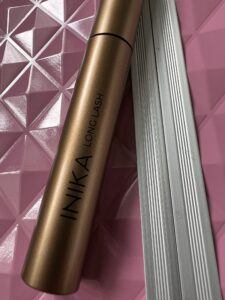 So basically, whenever normally I apply eye products like mascara my eyes start to water instantly but with inika that was only a tinie tiny problem, in other words no problemo!
Inika does state that it's suitable for 'sensitive eyes' thanks to the natural ingredients so that's probably why.
Ingredients
As I mentioned above the ingredients are quite impressive. They are one of the main reasons why I decided to give this item a try.
Inika's ingredients include a wax called carnauba which boosts volume and lengths as well as vitamin E from magnolia bark extract which softens and protects your lashes which I definitely need and maybe you do too!
Clump-free and how long-wearing?
You know when you wear some mascaras and then after a while you look to see your lashes have sticked together or clumps have formed, well you'd be pleased to know this mascara did a great job of keeping my lashes clump-free.
As for the lastage, that too was quite impressive lasting at least 7 hours probably longer if I hadn't took it off.
Length and volume
You're probably wanting to know this as this products main purpose after all is to achieve long lashes.
Well for me already having medium to long lashes I can still confirm that the outcome was noticeable.
Overall, the inika mascara is great for both long and short lashes, especially short lashes as the results are more obvious. They really do elongate the lashes!
I really liked the brush because it coated my individual lashes and untangled most of them as having long lashes often they get all messy and tangled.
The reason why I said most but not all is because beforehand I had to curl them to make them more manageable and straighter, making it easier for the mascara brush to untangle.
The thing which I didn't really like is it became a little harder to take off and was a little clingy at the end.
But above all I'd buy this mascara again due to the large amount of benefits and the positive results. You can get this mascara in two colours, black and brown.
You can check out more awesome vegan mascaras by tapping here!
Thanks for reading and as usual if you have any problems drop then down below in the comment section, and I'll get back to them!
Have a great day! ?
Please follow and like us: