I haven't tried any sort of glimmery eyeshadow before so the elf liquid glitter eyeshadow was my first experience! And did I enjoy it? Well you'd have to read to find out!
I decided to let elf's glitter eyeshadow to be the first as the pricing is just right, so if I wasn't a fan of it then I wouldn't worry that I blew my money and if I did enjoy it, well then that's great!
Oh and an interesting fact about this eyeshadow is that it is an allure 2020 best of beauty award winner!
But that's not why I picked it, trust me!
Quick overview:
Pros
Good shade range
Affordable
Smooth application
Quick drying
Doesn't feel gritty
Cons
Right, starting off with the description!
Disclosure: This post may contain affiliate links which means that I may earn commission if click and make a purchase but no additional cost to you.
Claims
Elf state their gel formula is 'long-lasting, quick-drying and 100% eye-catching'. Apparently just one swipe has enough glitter to give you that impressive eye look.
The formula is ment to sit comfortably on the lid with minimal fall out. It should also deliver a 'high-impact, multi-dimensional glitters and pearls'.
It is an opaque eyeshadow which means applying on top of other shades will make the shade beneath not visible so you would have to top up again.
Shades
They have quite a few colour options to choose from, around 11 shades. The colours range from copper and golds to purple, blue and silver as well as much more!
As elf has products priced at a great level, £6 or under $9, I decided to let myself pick 3 shades.
'Ocean eyes' which is an Ocean blue shade, '24k gold' a gold and 'black magic' which as you can tell by the name is a black shade.
If you are a fan of bright or strong colours there are shades 'flirty birdy', 'ocean blue', 'copper pop', 'dirty martini' and others to fulfill your creativity.
Whereas silvery shades such as 'bling bling' and 'disco queen' are great for layered topping.
As these are liquid glitter eyeshadow, they do all contain plenty of glimmers.
Shade range = 8/10!
Application
Right let's get into then! Shall we?
Diving straight in, I think application is super easy and smooth. I applied it to my eyelids the same way elf mentioned on their website.
Which was using the doe applicator the product comes with, I swiped it on, then blended the colour using my small finger. You can also use a flat eyeshadow brush to apply and gently blend.
I tried both ways using my finger as well as the brush and the results were pretty much similar, easy and smooth. For me I preferred my fingers as I can feel how much product I am applying.
Whilst I was using my finger I also noticed how the formula didn't feel gritty at all.
You know how sometimes when you have a product with glimmer in them, they feel rough and grit like which becomes even worser once on your skin. This luckily wasn't the case with the elf glitter eyeshadow.
Even on my lids I didn't feel any discomfort or prickly sensations.
They did a great job with adding in the correct amount of shine, not overdone or underdone, just right!
As well as the time it took to dry, it only took a matter of seconds for me to them be able to resume finishing my makeup.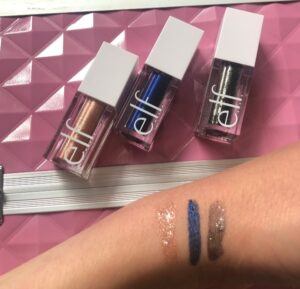 Lastage
Elf do mention that this eyeshadow is long-lasting but of course we don't merely believe words, you have to try it out!
So how did it perform?
Well I found it certainly did stay on long enough for me to consider it as long wearing.
I used eye primer underneath and it got through at least 7 hours. It definitely would have gone a few more hours if I didn't have to remove it, judging by how it appeared before I swiped it off.
So it checks the comfortable wear, the long-lasting one too but how about 'minimal fallout'?
As for the fallout, I think it could have been better but I'm not complaining, it only required a few brush offs and then good as gold!
The verdict
So overall I'd rate this product an 8/10! It does mainly as it says however I'm waiting on how long the product lasts and how the formula will react as time goes by, will it become hardened and so on.
I would also love to see more colours in their range and probably will want to repurchase!
Update: So it's been a while since I've opened the eyeshadow and I can say the formula in regards to softness and colour payoff is pretty much the same. So YAY for that!
The elf glitter eyeshadow is a great option for anyone looking for a quick affordable eyeshadow that offers some glimmer!
If you have any questions or suggestions please let me know in the comment section below!
Want to view more awesome vegan eyeshadows then tap here!
Or for glitter eyeliners I suggest you click here!
Have a great day!?
Please follow and like us: