Wet n wild is a 100% cruelty-free brand and has various vegan products too! So a while back I decided to give one of their products a go. That product happened to be the wet n wild matte primer.
So today I am going to be reviewing the wet n wild photo focus matte primer which don't worry is definitely vegan.
I'm going to go through the aspects which I found appealing as well as what I didn't find really cool, so sit back and enjoy!
Disclosure: This post may contain affiliate links which means that I may earn commission if click and make a purchase but no additional cost to you.
Quick overview:
Pros
Lightweight
Smooth texture
Affordable
Moisturizing making it good for dry areas
Cons
Less formula packed
Was doing well but suddenly become weak
Claims
First up the brand's statement!

The wet n wild photo focus matte primer claims to provide what most primers are ment to. This includes to minimize the appearance of pores, hide fine lines and wrinkles, even out your skin tone, as well as brighten your complexion.
Another purpose is to prevent your foundation from caking and creasing.
So does it actually achieve this, well you would have to read on to find out!
Packaging
The primer is packed in a plastic tube which requires squeezing in order for the product to be dispensed. Shut with an oval shaped lid which you twist to open.
The matte primer tube is a black shade with white writing, which definitely stands out against the background. The brand along with the product name is also displayed on the front of the tube.
The tube including the primer is quite light and if you add the sleek design into it, then it's definitely travel friendly.
However what I don't like about this item is the amount of primer that's packed in. It's actually quite less, at around 0.84 FL. Oz. compared to the usual 1.0 FL. Oz, though it is priced at an affordable level.
Another thing is you gotta be careful when getting the product out as the tube has quite a large opening so you can easily get too much product into your hands causing a lot of wastage. A gentle squeeze should be enough.
Packaging = 6/10!
Feel on the skin
Once applied on the skin it feels nice and cool. It doesn't feel like I'm wearing anything so I would say it's correct about the 'lightweight formula'.
My skin does feel soft and smooth to the touch and not sticky. There isn't no tight feeling either. My face does look fairly moisturised right after I apply it too.
Feel = 8/10!
Texture
Wet and wild state the formula is a 'smooth and silky cream' to which I believe is true.
The texture is quite smooth and looks a little like PVA glue but obviously doesn't thankfully feel like that otherwise that would be a disaster!
It's not too thick or runny and sits perfectly on the finger before applying.
Having a runny consistency is tricky to not create a mess and a thick formula makes your face feel stiff. So I'm glad this primer has a good density.
It is a white colour and doesn't have a strong scent to it luckily as this usually puts me off from bringing anything near my face, let alone apply.
Texture = 8/10!
Performance
Right now time for the part which everyone has been waiting for. Time for the grand finale!
So how did it perform you ask? Well, I had mixed feelings, I wasn't too satisfied with the results, but then again I was expecting something similar based on the price it comes at.
I applied a medium coverage foundation on top of the primer and for the first few hours it was doing well but then suddenly it became weak.
My face started to shine in the t-zone areas which had me running to find the blotting paper to fix it.
It also didn't appear to do a visible job in minimizing pores and help stop the foundation sinking into the pores.
It did say achieve a matte finish so I was kinda disappointed when it didn't meet this expectation.
I think it only did a good job of creating a nice moisturizing base for me to apply the foundation onto easily but that's about it.
I'm not sure if this is the result due to the warm and humid weather at the time of using this or if it's actually how this product performs.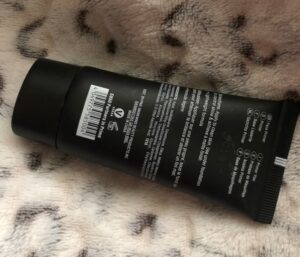 Oh forgot to mention, my foundation also didn't go patchy either on my cheek areas which tends to get dry so that's another good thing I picked out.
Performance = 6/10!
Would I buy this again? Most likely not, I'm going to search for other primers, hoping to get the results I'm after.
But who knows I might just give it another go, maybe in a different climate like winter, where my skin is less likely to produce a load of oil.
Of course I would suggest you try it out as firstly it's super affordable and secondly we all know everyone has different skin types therefore experiences will vary too! If you'd like to try it out then you can view the primer here!
But if you are looking for a serious primer that actually works then check them out here!
If you do give it a go, let me know how it works out!
Whilst you're here why not check out the wet n wild photo focus foundation! Tap here!
Do you currently have any primers which you love using? Let them be known in the comment section below!
And if you don't want to leave then I suggest you check out vegan primers made for sensitive skin peeps!
Have a great day! ? And stay safe!
Please follow and like us: