When there are products priced at a great level I end up buying a load of stuff, later realising how much I've actually spent.I'm sure many of youse can relate! So basically that's how the elf lip plumper and primer ended up in my hands, must have been one of those thoughtless shopping sprees.
What sets elf apart from some brand's is their super affordable pricing and the vegan and cruelty-free formula.
Elf have a wide range of products from foundations to eyeshadow palettes as well as lipsticks, primers and much more.
Okay enough of that let's start now! Do continue reading if you would like to find out how this 2 in 1 performs!
Disclosure: This post may contain affiliate links which means that I may earn commission if click and make a purchase but no additional cost to you.
Quick overview:
Pros
Application is easy
Smooth formula
Plumper seem to have some moisturizing effect
Did add some lastage to lipsticks
Cons
Primer was a little dry for me
The scent wasn't pleasant smelling in my opinion
No visible plumping effect
Claims
Elf state this 2 in 1 product should help you achieve a 'long-lasting lip colour' along with the appearance of a 'sexy plumped lips'.
Going into a bit more detail, the primer helps creates a sturdy foundation so that you can apply a long-lasting, no smudge and no budge pigment.
As for the plumper, a 'fuller larger looking' pout is what should be attained with of course the slight tingle effect.
Right let's get into it!
Packaging
Starting off with the packaging, the primer and plumper is packed in a long slim rectangular box. It is in a black shade with a strip of creamy yellow colour at the front and side, which resembles the actual product colour.
The box is clearly labeled with the 'elf' initials in the typical brand's font and white hue, along with the image of the two in one.
When you open the box from the top you are met with a marker look-alike item. The lip primer and plumper is situated inside a smooth plastic pen.
In order to use the product you need to give the pen a twist towards the end of which ever side you are using. The lids cover most of the primer and plumper.
Application
Before applying I make sure my lips are well prepped and there aren't any dry cracks.
I prefer using the plumper first which is a clear cinnamon scented formula, though it doesn't smell too nice in my opinion. The primer is a light beige shade located on the opposite end.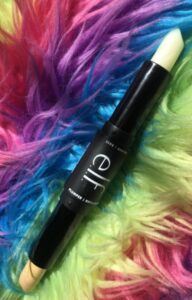 Both products apply quite easily but I'll say the plumper is the smoothest. It has a nice silky feel when you drag it across the lip whereas the primer is more on the creamy almost Vaseline type formula side.
Although the plumper does give the tingling sensation, that's about where it stops.
I didn't experience any obvious plumping effect which was a bit of a bummer as I really liked the smooth formula. It was also surprisingly good at moisturizing.
As for the primer, I'm not really a fan of it either, it's quite drying even more so if you don't use the plumper.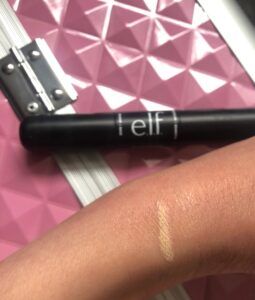 You have to apply a few layers for it to be effective and when you do you are stood there looking at a light weird coloured lip, that's if you miss out the plumper.
Lastage
The whole point of using a lip primer is to extend the lastage of your lipstick, so was this any useful in this aspect?
Well , I think it did fairly well once both ends were applied. It kept the lip pigment on for around 5 hours, for me this is perfect as I wasn't expecting it.
The lipstick I used did not bleed or smudge as much as it would have done on it's own, which I think is one of the few good things along with the affordable price, about this product.
Other than that sadly I don't think I would repurchase for any other reasons, though that is a good enough reason.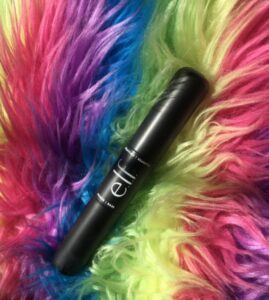 So to sum up, I think the products pricing and although the plumper didn't work, it's moisturizing effect on my pout were probably the only reasons why I'd grab if I had to re buy it, if I had to that is!
It is a pretty cool design and sure useful if it had worked out for me, but since it didn't I'm going to look elsewhere for a similar product!
I wasn't a fan of the cinnamon – supposed – to – be scent, as well as the strange colouring left on the lip when using the primer on it's own. So overall I'd rate this two in one a 6/10!
Have you tried elf products before? What do you think of them? Let me know in the comment section below!
Or if you don't want to leave then tap here to check out the elf intense eyeliner!
The elf sheer lipstick is a great product for those of you who prefer subtle hues so why not check it out!
Have a great day!?
Please follow and like us: