I decided to purchase the beauty bay nude 16 colour palette firstly due to its perfect size and secondly thanks to my good experience with beauty bays 42 matte colour palette.
So was I going to be disappointed or was it going to be another point to beauty bay? Feel free to continue reading if you'd like to know my favourite aspects of this product!
Disclosure: This post may contain affiliate links which means that I may earn commission if click and make a purchase but no additional cost to you.
Beauty bay nude 16 colour palette description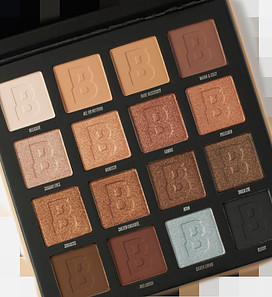 Let's start off with what the pallete is all about!
So beauty bay state this 16 shades colour palette contains a 'carefully curated mix' of eyeshadows with a texture that's supposed to be velvety and has a 'ultra blendable' feature. Sounds like a great formula!
The nude colour palette gives you the possibility of creating both day and night looks and that's with intense pigment too!
Now time for some truth!
Quick overview:
Pros
Includes shades useable during day and night with shimmer too
Perfect size for travelling
Soft feeling eyeshadow
Lastage is good
Blend-able
Cons
Pigmentation was a little weak
Some fallout
Fading issues
Shades
This nude palette consists of 16 shades, all of which are neutral and cool toned. I was initially looking for a palette that isn't too big but also holds a good amount of shades and this seemed like the perfect product, with neutral shades too, so a win for me!
Anyways this palette doesn't only hold mattes but shimmers too, so if you like me, feel like adding a little sparkle occasionally, this palette has got you.
Colour wise there are mainly browns of different hues, black, a silver, which I haven't used as of yet, not too sure how I'll incorporate it though, and a few lights.
The shade names are, well, don't have a particular theme, they're a little all over the place, kind of, if you ask me.
It goes from 'delicate', 'all or nothing' to 'tiger eye', 'hot cocoa' and 'illicit'. Not that it bothers me!
Application
I'm going to get straight to the point, application wise it was good however pigmentation I feel it could have been more stronger.
It was pretty easy to pack and apply the product onto the lid. The right amount of powder did grab onto the brush and deposit well.
One thing which ever so slightly bothered me was the fallout but hey considering the affordable pricing I can't really complain!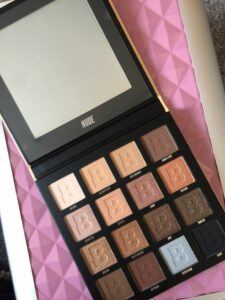 As for pigmentation, beauty bay did say it features an intense colour pay off, which I didn't seem to find true with the black and deep brown shade. It could have been more richer since they are one of the darker shades of the palette. And for the lighter more neutral shades as you can imagine you would need to apply a little extra for it to be visible.
I guess the good thing about the not so strong pigment is that you can easily fix a mistake and as they are buildable, you could just keep building on top to get the desired hue.
The eyeshadow on the eyelid did not feel hard or grit like. It certainly had a soft smooth feel to it too!
Lastage
The nude palette is supposed to offer 'unrivaled staying power', which suggests some true stay power!
And was I happy with the lastage?
Yes, it was great, keeping in mind the price, it got through 6 hours with primer and setting spray!
I can imagine without this preparation, you could expect maybe an hour less, that's just a judgment though. So lastage is a thumbs up from me!
How blendable is it?
Right onto the blendability! Beauty bay say they're 'ultra blendable' so how are they actually?
It's pretty important that an eyeshadow blends well because if it doesn't then you can have issues with how the shadow look turns out!
You could end up with a harsh and messy look which we definitely don't need! Right?
Blending was easy but I had to be careful I didn't end up over blending due to the light pigmentation.
So Overall
Overall I'm pleased to say they were great! They didn't require much work and softened quite easily.
I did use a primer first to help and then tried one lid without. They looked identical and both hadn't an issue with blending. So thumbs up for the blend-ability!
I think anyone who relies on nude shades daily would love the beauty bay nude 16 colour palette, it's a decent size with useful colours which you can certainly use to pull off day and night looks!
The only thing I'd like to say if I had to look for some improvements would be maybe to add a few more transition shades. Plus the shades to have a tendency to fade quite quickly.
That's would be awesome but regardless I still like this palette! I'd rate it a 8/10!
If you would like to check out the beauty bay palette for yourselves than tap here!
So have you tried any of beauty bays products? What do you think? Let me know in the comment section below!
Oh and if you are a fan of bright colours you might want to check out beauty bays 42 matte colour palette by tapping here!
If you prefer neutral palettes then click here!
Have a great day!
Please follow and like us: