I was given the pro hygiene collection makeup brush cleaner as part of a set along with brushes when I was on a course and ever since then I've continued purchasing it every now and again.
If you'd like to know why, then please stick around as I go through my favourite aspects about this cleaner and to make it fair and of course to stay truthful, any downsides.
The first reason why this little friend of mines is still tagging along with me is because it's formulated to kill 99.99% of bacteria and that's all within 60 seconds. Probably more quicker than I could clean a single brush!
I mean what's the point in having a brush cleaner that won't kill all if not most bacteria and dirt.
Keeping your makeup and too
ls clean regularly is important as bacteria as well as dead skin cells and other dirt can build up over time which we all don't want to house in our items!
If you have sensitive skin, which I do, then cleansing is even more important, we don't want an angry irritated skin do we!
Cleaner brushes also allow makeup to be applied much more better.
Quick overview:
Pros
Can be used on both synthetic and natural bristles
Does clean strong pigments well
Quick drying
Good for sensitive skin
Cons
Does run out quick
Doesn't smell too pleasant
What can you use it on?
The pro hygiene collection state that this brush cleaner can be used on both natural and synthetic bristles.
I don't only use it on my brushes, I sometimes give my other tools such as eyelash curler a quick spray too, I'm sure it doesn't do no harm.
How well does it clean makeup?
Obviously the whole reason why you would purchase a makeup brush cleaner is to get rid of the dirt and residue, so I had to do quite a few testing to make sure I wasn't just sleep talking or writing!
So how good is this hygiene cleaner?
The brand state that this cleaner can get rid of all types of makeup that's including dark, strong pigments, waterproof and long wear stains.
So my findings according to the past and present usages is….
Yes this product does well in removing all of my makeup residues even the old dirty one I mistakenly found lying around behind the draw.
I usually spray between 2-3 pumps about 15-20 cm away on small brushes and 3-5 on larger or more stubborn pigments.
I then wipe on a tissue or cloth in circular motions till clean and then back to work it is!
If you have waterproof makeup stains or old residue that you want to get rid of then you might need to do a few extra spritz.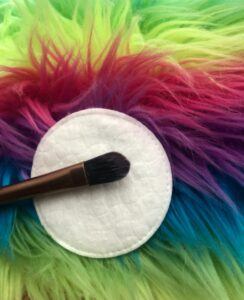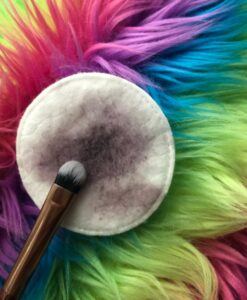 Fast drying?
You know I used to use soap or gentle shampoos and water a while back when I never had brush cleaners and what can I tell you, the waiting time was an absolute joke.
If you've tried this method you'll know how many hours it literally takes.
So after going through all the pain of trying to squeeze every little drop of water out of the bristles so that I can use it again, I decided I had enough and purchased a makeup brush cleaner again.
And you know what, that particular brush cleaner wasn't really any better, don't get me wrong it didn't take hours to dry, it took hours for me to do my makeup.
After spraying the brushes and wiping it, the bristles were still wet so when I went to dip in the makeup and apply to my face I wasn't met with a nice soft feel but a wet slap across my face! YUUUK!
I could have used a few sprays however then it wouldn't clean the brush properly so I had to do quite a few spritz.
Okay enough of the old talk, back to the pro hygiene, so where was I?
Oh yeah this product thankfully does dry in a matter of a few seconds. I spray the brush I'm using, wipe the makeup residue off and then give it a little wave if it's a large brush and then continue finishing my makeup off.
And honestly I don't feel any wetness but it does have a little coldness to it, which I'd rather have then the former.
So is it fast drying?
I would consider it as quick drying.
Effect on brushes?
After spraying this product, the bristles do feel nice and soft and I haven't had any of my brushes loose any bristles during the cleaning process.
The reason why I'm saying this is, with a few brush cleaners in the past I have noticed that some of them actually weaken my bristles leading them to fall out, but I'm not sure to what extent this is true and if its only me with this issue.
I would love to know if I'm not the only one with this brush and cleaner issue, comment down below if anyone has had similar problems!
Now onto the other side, the side of evil, JK,
To be just, (here goes me nitpicking) I've plucked out what I wasn't too happy about, one of them is the time it lasts, it's not long-lasting enough and the other thing is the smell, wouldn't it be extra nice if every time you sprayed, a beautiful floral or whatever nice smell came out like a perfume or am I just being a little weird now.
The smell as it is, isn't bothering, it's got a scent that I don't know how to describe but it's not unpleasant.
Worth it?
Overall I think this is a great product for those of you who are in a hurry and don't have time in between for the brush to dry.
It's also quite affordable at only £12 depending on the size. It doesn't cause any skin reactions so great for sensitive skin too!
To view more awesome vegan makeup brush cleaners then tap here!
Want to know why cleaning your makeup brushes is important then check here! 
Now your turn, do you have a favourite makeup brush cleaner and what do you like about it? Comment down below!
Have a great or night wherever you are! ?
Please follow and like us: