The rem beauty mascara is my recent purchase, just a random one too. I already have plenty of mascaras then why did I get another? Well it had been a while since I had got a new makeup product so I guess you could say I was bored!
Anyways here is how my experience went!
Description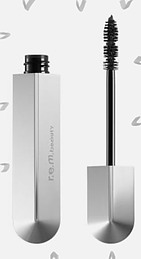 The rem beauty mascara or to be more precise the flourishing volumizing mascara is designed by Ariana grande to help achieve lashes that are well nourished as well as volumized! With this formula you shall expect well 'flourished' lashes that are buildable without the issue of clumping so you are guaranteed 'fuller, more voluminous-looking' lashes!
The brand state this mascara is infused with 100% plant derived bamboo powder which apparently ensure for a no fall out! There is also an addition of Tahitian micro algae and trio of nourishing fruit extracts so yes you can say a clean formula indeed! You shouldn't worry about Parabens, micro plastic, silicone or mineral oil as this mascara is free from all that junk!
Application
According to the brand application should be easy with maximum product deposition. This mascara features an applicator spaced out channels which allow just the right amount of product to be collected and deposited for 'maximum lash lift off'! The brand even conducted an independent study with 32 costumers with around 94% agreeing that they did receive lashes with the lifted appearance.
So did I experience that lift off which I anticipated and was it an effortless application?
Rem beauty advice for an ultimate lash lift to place the wand at the base of your lashes and slowly roll the brush outward so that is what I decided to follow. And the results were great overall. If you inspect the applicator you can actually see the channels that the brand were stating about, they pretty clear, the design is certainly unique. But is there more past the appearance?
It does coat most lashes well however did struggle a little when it came to the small ones in the corner however using the corner did help get those that thought they could get away!
Lastage
When it comes to lastage with this mascara I weren't too sure what to expect since the brand don't mention much at all in regard to how sturdy it is or long lasting.
Anyways I went straight in and applied it, went about the day and then decided to give it a check. The results were in! Good news for the most part at least. There were no crumbling or clumping, just to let you know I didn't reapply during the day, just the one coat at the beginning was all I needed for the day, a natural look is what I went for.
Most the mascara was intact, just a slight issue with transferring was the issue which I guess is expected with roughly 6-7 hours of wear. The mascara isn't waterproof either. Anyways I would say it has a good lastage time overall especially considering it focuses more on volume than anything else.
Overall
Overall I would give the rem beauty mascara a 7.5/10! I like the volumized effect it gave as well as the clean ingredients which was great for my sensitive eyes. The easy removal provided a much calmer cleansing routine as well.
However, I am looking for mascaras that are long wearing and a little more dramatic.
Right that's it for now peeps!
Have a great day!
Please follow and like us: