I decided to purchase the Charlotte tilbury lipstick after a while of getting the Charlotte tilbury lip cheat which to be honest I should have purchased the lipstick a while ago alongside the lip liner. Well anyways it is here now!
Maybe I left it since I am not too keen on matte finishes, well I say me but it's more like my lips aren't a fan since they go all dry despite moisturising beforehand!
Right here is the what I thought of it! Do continue reading if you'd like to know how it performs!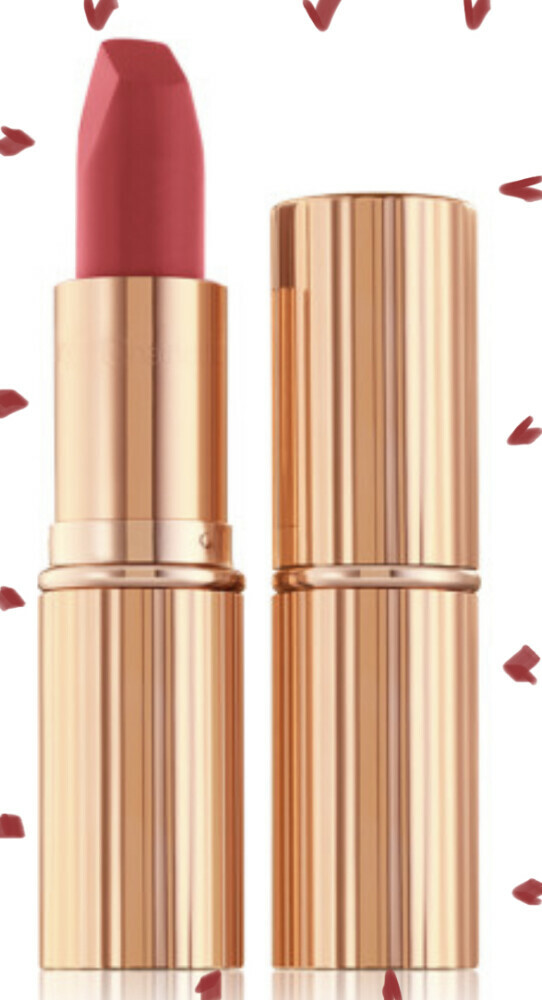 Description
The matte revolution lipstick is said to be enriched with ingredients which provide you with a 'fuller, softer' lips. In particular the Orchid and lipstick tree extracts help protect, soften and ensure your lips are hydrated for a pout that is 'younger looking'! The addition of 3D glowing pigments is where the lipstick attains the illusion of a wider, fuller appearing lip.
The Charlotte tilbury matte revolution lipstick is said to be a product of long lasting colour, up to 10 hours! It features a nice blend of not only oils but triglycerides along with waxes for a buildable colour too.
The Charlotte tilbury comes in a nice gold reflective casing complementing well the lip shade inside, giving it a nice luxury touch to any makeup collection. These lipsticks can be brought with a liner to match allowing you to achieve the ultimate lip look that you have been wanting.
Shades
The matte revolution lipstick comes in various shades which range from light 'sexy Sienna' to the more richer shade 'festival magic'. There are shades for both day and night and of course for the natural no makeup effect too! Do be aware that not all the shades in the matte revolution are vegan friendly such as 'sexy sienne' and 'love liberty'.
I coudn't really decide which shade so I decided to go for the one which I would use more often which would mean it would have to be a natural shade. It was a little tricky since a couple of the ones I did like the hue of were not vegan friendly. So I settled on the shade 'gracefully pink', a pink coral matte lipstick. Plus it had pretty decent reviews so seems promising.
Application
Application is an important feature for a lipstick in my opinion. Many of them are either too wide and end of creating a messy look if you aren't super careful when applying even more so if you have naturally thin or small lips. Or there may be a few which are quite thin so require double applying.
Anyways coming back to this lipstick, upon speculation it seems like a perfect size. It is a unique square shaped with an angled tip which according to the brand mimics the shape of a lip brush allowing for a precise application.
Lastage
Charlotte tilburys matte revolution lipstick line is stated to be an ideal product for those who love a long lasting matte colour. Which means this lipstick should be pretty strong and reliable for an all day long look! The addition of a decent blend of oils together with triglycerides along with waxes promise a long lasting colour of up to 10 hours apparently!
So how was the lastage? Well I can say it wasn't 10 hours however it was somewhat close. I would say it was around 7-8 hours which is pretty great considering the day was filled with eating as well as drinking.
I mean you can of course expect some fading but I wouldn't say to the point that it would out me off from repurchasing. So as you can tell topping up will be required especially if it is a light or neutral shade like the one I have.
As for any other issues such as transferring or bleeding, there were some slight problems here and there but again nothing major. I guess the transferring and bleeding were made more apparent due to my constantly wiping away after I had eaten.
Do make sure you prep well beforehand to minimise issues, use a lip scrub along with a moisturiser, it does wonders!
Overall
Overall I give the Charlotte tilbury lipstick a rating of 8.5/10! I am not a massive fan of mattes since they dry my lips out however with the Charlotte tilbury one I didn't experience dehydrating to the point that I wouldn't repurchase. The shade is beautiful as is the texture.
The finish result is decent too as is the lastage quite impressive. However if I had to pick a fault, I would say the casing gets pretty dirty quickly and the lipstick does seem to run out quick. As for the performance, I wouldn't say there was anything too serious despite having some issues with transferring and fading.
I think this lipstick is ideal for any one looking for a matte lipstick which offers a variety of shades for both day and night looks. It does offer a long lasting colour that is buildable.
Right thats it for now peeps!
Have a great day!
Please follow and like us: