You have tried and tested a range of foundations but they just don't work to your expectation, oh why! I know you may be thinking that, I can't totally relate to you peeps but I do understand the struggles sometimes as my forehead often becomes oily. That's why I decided to search for vegan foundation for oily skin and list them for you. See I do care for you!
You may have experienced some foundations running off and melting, not lasting nowhere near what it's supposed to.
Streaks might start to appear on your face or breakouts or at times look like you have been working your socks and sweating (I mean it could be good).
These are some of the signs that you have oily skin and are in need of a great foundation that specially caters for your skin.
These foundations for oily skin will make sure you don't look like you are wearing greasy masks by the afternoon. They are long-wearing and shine free.
So let's get rolling, shall we?!
Hourglass Immaculate Liquid Powder Foundation
Hourglass is a cruelty-free brand so yay to that! This particular product aims to 'deliver a long-lasting velvet matte finish' whilst also 'camouflaging imperfections' so you are definitely left with a 'complexion-perfecting coverage' throughout the day.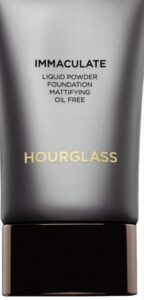 Now onto why it's a product made for the oily peeps. Hourglass made the formula oil-free which is benefiting as oily skinned individuals already have excess oil so you for sure don't need anymore oil.
Their formula is stated to work through the day to control oil which also apparently reduces the appearance of 'blemishes, pores, and scars'.
This product also doesn't clog pores which I know sometimes can be a struggle with this skin type as the pores are much more visible.
"70% reported a visible improvement in the appearance of pore size." You can head to their website to read all their benefits.
Illamasqua – Rich Liquid Foundation
Illamasqua rich liquid foundation provides the greatest coverage whilst also being long-lasting and providing you with a water resistant and easily blendable formula.
No wonder it's loved by many makeup artists! It's also nourishing thanks to the blend of vitamins.
As for the oily skin individuals this foundation is said to 'condition the skin whilst absorbing ingredients reduce excess oil'.
Great that's what we need! The formula is thicker than the usual foundation without the heavy feeling.
Elf flawless finish foundation
Elf is a vegan and cruelty-free brand and for those of you who are wondering it stands for eyes, lips, and face.
This product can give you a medium to full coverage and leaves you with a 'flawless, even, satin-matte base'.
The consistency of this product is creamy therefore easily blendable.
The flawless finish foundation is suitable for all skin types like a few of these foundations mentioned but this is especially great for oily skin as it's oil-free and matte which helps to reduce the appearance of pores.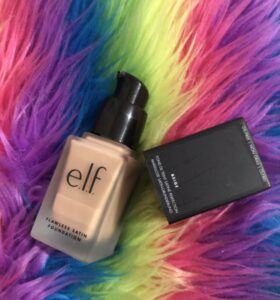 Charlotte Tilbury magic foundation
Your probably thinking why does Charlotte Tilbury get suggested in every  foundation article, well it's not our fault she has created foundations for many skin needs (not saying others don't).
The magic foundation doesn't only provide you with a flawless finish, it treats skin problems and has anti-ageing benefits.
Charlotte Tilbury states this product is 'ideal for flawless, pore less coverage' so if you have large pores mainly due to oily skin then this would be a great formula.
The formula is infused with vitamin C! Extra nutrition for your skin!
Smashbox studio Skin Full Coverage 24H Foundation
If your looking for a lightweight, easily glideable and a '24hr full coverage' foundation, then you should check out the smashboxes studio skin foundation.
They state they're 'waterproof, sweat and humidity-resistant' and you won't look cakey! It's mineral too!
Now for the goodness for oily skin peeps, this product has a really awesome formula which controls shine and oil and a non-acnegenic ingredient which means it's less likely to clog your pores or worsen acne and irritate your skin!
Nyx professional makeup can't stop foundation
The NYX can't stop foundation, currently comes in 45 different shades, delivering a matte coverage which should get you through up to 24 hours. That sounds interesting to me!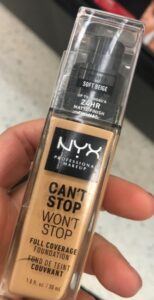 With the NYX foundation you shouldn't have many problems too as it's 'non-comedogenic' formula makes it suitable for even sensitive skin and it's ability to 'control shine' means oily skin peeps will also benefit from this product!
Application itself is said to be smooth thanks to its 'creamy' texture.
Other cool features you might want to know about this foundation is its 'lightweight, waterproof and highly pigmented'!
You can also check out oily skin friendly eyeliners here!
Tarte Amazonian clay
This particular foundation by tarte cosmetics is vegan however not all their products are so look out for the logo!
The amazonian foundation provides 'instant full coverage' with ingredients that are said to be 'natures best!'
It features 23 matte finish shades which control oil whilst be careful not to dry out any areas. This foundation is said to 'glide on like silk' whilst having the stay power of 'iron'! That sounds tough!
The wear time is around 24 hrs with no caking neither creasing, mousse like texture and 'featherlight' weight, it sure sounds like a dream foundation!
The amazonian clay foundation has the ability to cover not only redness, and dark spots but also smooth out the appearance of pores and fine lines. The foundation gets its name from actually featuring 'amazonian clay' in its formula!
Urban decay all nighter liquid foundation
'Get serious long lasting wear and a blown out effect you never thought was possible'
Available in over 20 shades and various undertones, the urban decay all nighter foundation is here to keep your makeup up all night for a 'flawless looking complexion that won't quit'! 
It's waterproof and paraben free. Urban decay state this foundation is perfect for 'all night affairs and other scandalous activities as well as everyday wear'.
This foundation provides a full coverage with a matte finish that's oil free too, excellent for oily skin peeps! The cool formula is apparently loaded with pigment which means a little goes a long way and building layers on layers is not at all required.
For oily skin peeps apart from the oil free formula, this foundation also benefits us as the formula absorbs oil, reducing the appearance of shine. Plus using your fingers isn't an issue which would usually otherwise cause excess oil to rise.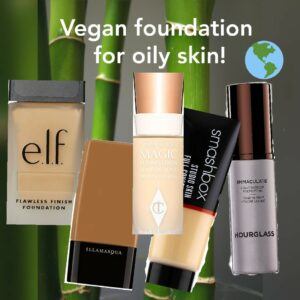 What foundation are you currently using and what is your skin type? Is it really effective I'd love to know, comment them down below!
Before you leave don't forget to check out vegan primers for oily skin!
And once you are done with them you can wipe them off with these makeup removers made for oily skin!
Thanks for stopping by, beauties! Have a great day ? (or night)
Please follow and like us: