Are you looking for a lipstick that's long wearing, has a nice creamy texture with a hint of shine whilst also being vegan and cruelty-free? Then I think the Barry m satin super slick lip paint could be for you.
I recently purchased 2 colours of this lip paint, one being the 'berry- licious' which is a medium purply shade and second the 'mannequin', a light pinky nude shade, which I think is great if you're going for a natural look or if you are wanting to add a little colour to your lips.
The rest of the shades I can't speak for as I have yet to try them. But I'm sure they are equally as great.
These lip paints are formulated using Shea butter and vitamin E to ensure your lips are left looking healthy after each swipe.
Thanks to Barry M's satin dewy formula your lips are ment to be left with a nice soft appearance.
Below I've listed the goodness of this product as well as the not so great features in my opinion.
Quick overview:
Pros
Smooth application
Easily blendable
Long lasting
Cons
Not as moisturizing for my dry lips
Can leave some stain
Could do with more shades
Disclosure: This post may contain affiliate links which means that I may earn commission if click and make a purchase but no additional cost to you.
Right shall we begin?!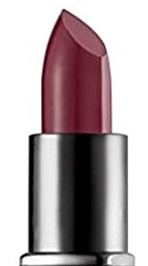 Application
We all want makeup products that can be applied with ease don't we? I mean who wants to be slapping their face proper hard just to get some pigment on.
Luckily with this lipstick I can say it was really easy. It glided along with no trouble, all done smoothly.
I applied the colour on my bottom lip and easily smudged it to the top lip by just pursing my lips together without the need of adding extra colour.
So application was definitely one of the good things about this lipstick and how evenly it spread.
Moisturizing?
Barry M lip paint state their formula contains Shea butter and vitamin E which should reduce dryness of the lips and leave your lips moisturized.
I'd like to say that the moisturizing effect didn't come into play as my lips started to go all dry and chapped after a little while, maybe that could be down to my lips being prone to dryness often, anyways this had to be put as a downside.
However, don't be disheartened as this problem was easily dealt with by applying a moisturizer or a lip scrub beforehand or even on top.
How long does the colour last?
As this is a lipstick, I'd like to think a lot of people would want to know how long it lasts.
Well, this one surprised me kind of, considering the price you can get them for, it lasted for at least a good 4 hours and a half. Probably down to the highly pigmented formula.
With it being long-lasting, the problem was it required a little work to get off, it did tend to leave a minor stain each time I decided to remove it.
Oh well, at least you don't have to keep reapplying it and worry about it melting off.
Colour range
The colour range is good, going just over 8 different shades, varying from light to dark for different occasions.
Whether you're wanting to throw on a natural look or go for a more bold look, I think there is enough colour choice.
For a natural look you could opt for shades such as the 'bare it all' which is a beige colour or 'mannequin' as mentioned before,a nude shade or 'rosemance' a light pinky shade and many more.
Shades like the 'peachy keen' or 'red my lips' which is a classic red lipstick would definitely show off your brighter side. Whereas 'berry licious' is a great purple shade for a bold look.
These are just the few mentioned with the rest colour ranging in-between them.
Just to add, you may need to be careful with the colour choice as they don't seem to appear exactly like they are shown which was another downside I noticed about this lipstick.
Overall, I think I would buy maybe another one or two colours, mainly because of the price they come at and how easily they blended. But I'd rather stick to wearing them on not so important occasions.
So there you have it peeps my favourite things and not so cool things about this lipstick.
I want to know what do you love about this product or what you'd think would be great if improved. Let me know in the comment section below.
If you don't have these lipsticks, I suggest you try them out.
I mean that's if you are interested in an easily blendable and moisturizing, if your lips aren't too dry, lipstick.
Tap here to check out more awesome vegan lipsticks! 
Thanks for reading! Have a great day or night wherever you are! ?
Please follow and like us: