The beauty bay eyeshadow palette had been on my mind for a while now so I decided it was time to purchase them. The one I was after in particular was the large bright 42 colour palette.
I'm not really a fan of bright colours though, I know you probably going to ask why did I get it then. Well I don't even know the answer to that!
Okay enough of the talk, let's start the review! So here is my favourite aspects of this palette as well as any features I wasn't to keen on.
Let's get rolling!
Quick overview:
Pros
Large mirror
Affordable
Great amount of shades for whatever occasion
Easily blendable
Good lastage
Cons
Lighter shades are a little lower in pigmentation
Shimmers loose their power quicker than mattes
Packaging
The packaging is pretty simple, the palette is in an all pink shade with the brand's logo 'b' in white and the palette name '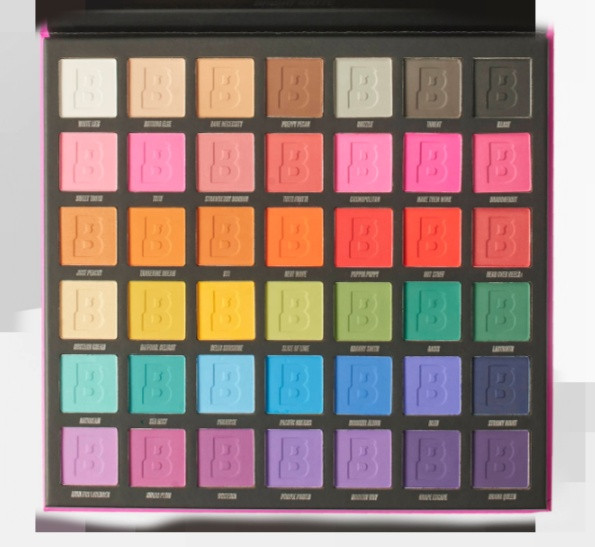 bright' in bold yellow. At the back is some information about the product written in white, which isn't too hard to read.
The palette box is in a matte black shade with similar information as the palette itself along with the ingredients list. The logo and details in white stand out well against the deep background.
If I had to pick what I like about this palette, one of the features would definitely be the mirror that comes with this product.
Once you open the eyeshadow you are met with a decent sized reflection.
After using it a number of times I can say it is of great quality, which is a little surprising considering the affordable price it comes at.
Shades
This palette holds a staggering 42 matte colours. They are mainly mattes but a few do have slight shimmer to them. As you can tell by the palette name, they are bright shades with some deep ones too.
The first row holds neutral shades such as black, creams, browns and the like. The second row consists of pinks in light to medium shade.
On the third and fourth row you have your sunset colours, ranging from yellows to oranges, which gradually lead to army greens.
The last two rows are packed with blues and purples such as aqua and violet.
These shades are great for use for many occasions especially parties. There are shades for day to day looks too. I mainly use this palette when I feel creative due to the variety of shades, which is for sure not every day, though it can be used. Or on special occasions when I want a colour match with my outfit.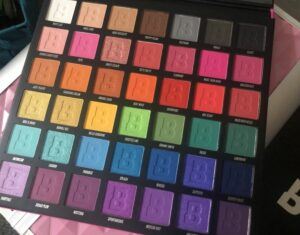 Application/blendability
I usually pack my eyeshadows on using a dense flat brush and then blend using a softer fluffier one. For the crease, the best brush is the one designed for this area, which is of course the crease brush.
I found it pretty easy to blend. The colours didn't overpower each other, they blended well together. Applying was effortless too.
The eyeshadows are of powdery form rather than the creamy texture which I'm usually drawn too, but I'm not complaining. As long as they blend and apply superb, they'll do.
Pigmentation
The pigmentation overall is great for a palette priced at this level. Not all the colours have the same pigmentation though. My opinion on the colour payoff is balanced by a few shades having high pigments and others not so much.
I feel like the darker hues are just right however the problem is with the lighter shades such as yellow or the ones with shimmer in them. They require a few extra dabs to build up visible colour. I mean it's not that bad, you can certainly live with it.
Lastage
I have to wear a primer underneath otherwise you just don't get that super pigment neither the lastage. These colours with primer got through at least 6-7 hours, which I think is reasonable. I did notice the shimmers and mattes had different stay powers.
The shimmer shades did fade away earlier than the matte shades. However, I did find that their lastage could be elongated a little by using a setting spray at the end or just top up when you notice it fade.
I tried once without primer, only using foundation as a base however it only managed to last a few hours before disappearing in patches!
Overall I think this palette is great for anyone looking for an affordable and vegan option. If you love bright colours then you definitely need to take a look at this.
Even if you aren't a fan of popping colours, this palette unleashes your creative side just like it did with me.
Are you a fan of bright colours or nay? Drop your answers down in the comment section below!
If you prefer nude shades check out the beauty bay 16 colour palette, it's a perfect size too!
Have a great day!?
Please follow and like us: