You are probably wondering what is the best makeup primer for mature skin, well it depends what you are after. Is it a hydrating cream you are in need of or one that helps radiate your complexion!? There are many different types of primers out there which claim to provide value other than longer lasting makeup.
Usually a good primer for mature skin's is the one that doesn't settle into wrinkles, fine lines or cause creases.
An even better formula would be the one that not only helps your makeup stay put for long but also gives aging skin a youthful and nice glow as well as other benefits.
Quick overview 
NYX angel veil face primer
Quick fix hydra charged priming spray
Too faced hangover primer
Murad invisiblur perfecting shield
 Charlotte Tilbury brightening youth glow primer
Disclosure: This post may contain affiliate links which means that I may earn commission if click and make a purchase but no additional cost to you.
The angel veil face primer by NYX is a great vegan and cruelty-free option, priced at an affordable level.
The angel veil is a 'silky, light and fresh formula' which doesn't only create a smooth canvas but also a shine free flawless skin.
It promises to leave your skin feeling like it's been touched by an angel! So that's where it gets it's name from! For mature skin the 'comfortable cushion' effect will definitely help 'enhance makeup application' as with other skin types as well.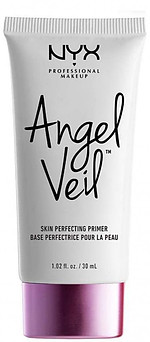 Quick fix hydra charged priming spray
Bored with using the same cream formula or in a hurry? Then check out the quick fix hydra charged primer which comes in the form of a spray.
This priming spray 'instantly hydrates and softens' your precious skin as well as balance your complexion. You can use it to help wake your skin in the morning, before applying makeup, at night, basically anytime!
It's suitable for all skin types but why mature you ask?
Well the skin nourishing ingredients such as vitamin b3 and coconut water as well as many other skin benefiting ingredients help to reduce the appearance of pores, brighten and replace moisturize all which typically occur as our skin ages.
Too faced hangover primer
This face primer by too faced is a replenishing product meaning it instantly renews your complexion by hydrating and brightening leaving a smooth, dewy healthy looking finish.
The hangover primer also promotes skin's elasticity which older skin starts to lack due to the decreased production of collagen.
Soothing, smoothing and boosting the skin radiance are also great properties of this primer.


If you want, you can purchase the 3 in 1 hangover primer and setting spray!
Murad invisiblur perfecting shield
Keeping your skin protected from the harmful rays of the sun isn't just important for mature skin's, it's all and every skin types.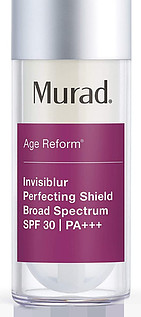 The Murad invisiblur perfecting shield doesn't only act as a primer but also a mini sunscreen thanks to it's SPF 30, but that doesn't mean you shouldn't wear a sun cream, you must!
Along with this, the primer also delivers anti aging skin benefits all due to extracts like sunflower, cucumbers and barley, all working to 'blur, protect and prime for 12 hours'! Pretty impressive!
It's also non comedogenic, so sensitive skin peeps can enjoy this product too!
Charlotte Tilbury brightening youth glow primer
The Charlotte Tilbury brightening youth glow primer is a 2 in 1, a colour correcter and a moisturising primer.
This magical product is loaded with essential ingredients for your precious skin. It includes pearlescent pigments, green algae extract, vitamin B3, and watercress extract to name a few, all which help leave your complexion with a brighter, even and soft skin tone.
Ingredients like the rosehip oil which is known to revitalize as well as build radiance to the skin's appearance, add extra importance to mature skin.
According to the brand 100% actually saw an improvement in their skin tone and luminosity from the 30 women tested!
So there you have it peeps, a bunch of awesome vegan primers for aging skins, to check out!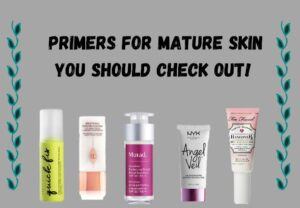 If you have any questions or suggestions then feel free to drop them down below in the comment section!
If you want to check out foundations to match for mature skin then click here!
Have a great day!?
Please follow and like us: