Brown mascaras are great for those of you who want to enhance your lashes, not dramatically but with a subtle touch, a more natural look. It goes nicely with a day time look or if you are planning on a no makeup effect. So if this sounds like something you would want to try out then I suggest you carry on reading to find out the best brown mascara!
Let's get rolling!
Quick Review
Barry M stormy eyes mascara
SKINFOOD forest dining bare mascara
Too faced better than sex mascara in brown
ZAO aloe vera mascara
Covergirl lash blast clean volume mascara

 
Starting with…
Barry M stormy eyes mascara

The barry m stormy eyes mascara is available in 2 colours, the usual black and dark brown. This 100% vegan and cruelty-free mascara claims to provide 'high intensity, voluminous lashes' helping you achieve lashes that are not only thicker appearing but defined too!
Along with the mascara comes a 'large, jumbo' brush which is designed to make applying easy for extra long, luscious lashes! This mascara features palm oil derivatives that is RSPO certified. It's low cost makes it a great affordable choice.
SKINFOOD forest dining bare mascara
The skinfood bare mascara isn't only designed to define your lashes, oh no this cool mascara goes beyond that! It lengthens as well as curls! Now that sounds like a great versatile product to carry around.
This vegan mascara features apple derived fibres along with cactus pear extract which are known to keep lashes hydrated. It definitely sounds like a skin food! The forest dining mascara comes with waterproof and smudge proof properties making it long-lasting. Plus for your peace of mind, not needing to worry what your mascara is up to while you go about your business! It is free from PEG, synthetic fragrance and talc!
Too faced better than sex mascara in brown
Originally created in deep black, the too faced better than sex mascara is now available in a decadent chocolate hue! This mascara aims to create lashes that are 'full, defined and stretched to unbelievable lengths' resulting in an 'intensed, multidimensional' lashes. It isn't an award winner for no reason!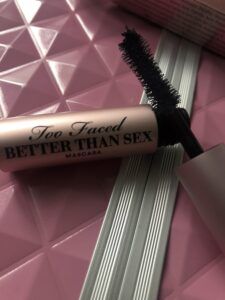 The applicator being an hourglass shape gives it the ability to separate and coat each lash to 'voluptuous perfection'. The too faced mascara also has the potential to lock curls in place thanks to the film forming polymers, whilst peptides help conditions the hair. So if you are looking to add voluptuous volume then the better than sex mascara is for you!
(You can check out the full review here for the black shade)
ZAO aloe vera mascara
As you can tell by the name the ZAO aloe vera mascara is of 100% natural origin, formulated in rich organic aloe vera. This makes it suitable for daily use and certainly for sensitive eye peeps too! Key ingredients include acai gum which gives the mascara a long-lasting hold, organic shea butter which is naturally rich in fatty acid, giving it moisturising and nourishing properties whereas aloe vera is known for its soothing and repairing properties.
The unique applicator according to the brand allows for an 'eyelash after eyelash application', coating every lash. This particular product is also refillable, great for the environment!
Covergirl lash blast clean volume mascara
The covergirl lash blast mascara comes in a very rich brown shade known as 'black brown'. It is darker compared to your other brown hues as you can tell by the name. This mascara in particular provides volume as well as length with a formula that is free from 'parabens, sulfates, talc, and mineral oil'!
Other cool ingredients include argan and marula oil which leave lashes conditioned resulting in 'high-volume lash look of your dreams'! This lash blast mascara promises to not smudge or clump, just 10 times more volume, yes that is right, 10x along with visibly long, full eyelashes that stay put all day! 
Right that's it for now peeps but if you don't want to leave just yet then I suggest you tap here to check out subtle brown eyeliners to match!
Have a great day!
Please follow and like us: