There are various forms which eyeliners come in. Liquid, pencil and gel are just a few of those examples. But we are here to get to know what the best vegan gel eyeliner are! So shall we get going!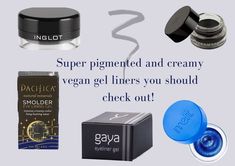 Gel liners usually come packed in small pots. And are applied using brushes which have a thin tip for accurate precision.
Gel eyeliners are typically super pigmented and have a creamy consistency.
As with other eyeliner forms, gels can come in various colours, the most widely available are black or brown.
Below are a few examples of some awesome gel eyeliners that are vegan.
Enjoy!
Quick overview
Pacifica smolder eye lining gel
Illamasqua precision gel liner
Gaya cosmetic eyeliner gel
Inglot AMC eyeliner gel
Melt cosmetics gel eyeliner
Revolution gel eyeliner pot
Hourglass voyeur waterproof gel eyeliner
Pacifica smolder eye lining gel
Pacifica is a vegan and cruelty-free brand that believe in creating clean and natural beauty products for the skin and face.
This gel eyeliner's long-lasting and creamy finish makes it great for those who love to rock dramatic looks such as the smoky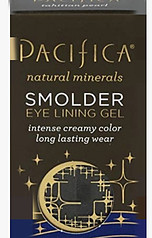 eye and even a simple everyday wear.
If you love products that have extra useages, then this could be the one, as you can not only use it as an eyeliner but eyeshadow too!
The gel liner doesn't crease and can be smudged easily or left depending on the intensity you're after.
And it's available in two different shades, midnight, a deep navy, and Tahitian pearl, a green/grey with gold dust.
Illamasqua precision gel liner
Coming in three amazing shades, deviate, infinity and oblique, the precision gel liner doesn't only enable you to have great control with it's intense colour but also high definition results, all thanks to it's smooth long-lasting formula, that also happens to be water resistant, meaning extra long stay power.
So no worries of having ink rolling down your face halfway through the day!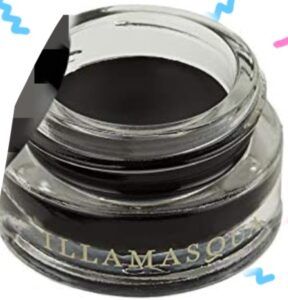 If you are a beginner or not so comfortable of getting a neat line then you might want to take a look at this product, with it's thick cream texture, it's suggested by the brand itself.
Gaya cosmetics eyeliner gel
Gaya is a vegan and cruelty-free makeup brand that strive to only create the cleanest of beauty products which means many of their products are free from chemicals such as SLS, formaldehyde, paraben, synthetic fragrances and much more!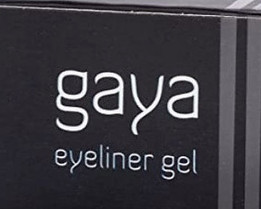 The Gaya cosmetics gel eyeliner isn't only designed to achieve long-lasting professional results, it amazingly stimulates hair growth too!
You can thank the jojoba seed oil for enhancing your eyelashes!
As for lining your eyes, you'll notice you only need a single stroke to get the results you're after due to the intense colour pay off as well as transfer and smudge resistant formula.
If you have sensitive eyes or allergies, this eyeliner is delicate enough to use with it's aloe Vera leaf extract formulation.
Inglot AMC eyeliner gel
AMC eyeliner gel by Inglot comes in three different colours, the popular brown and black hue and something a little different, a completely white shade as well, which I haven't seen that often.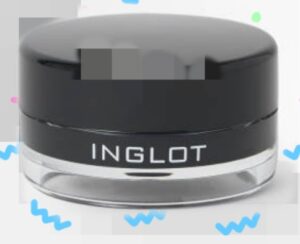 Inglot promise this ultra pigmented gel will get you through from 'day to night, no matter the occasion' with their long-lasting intense colour pay off formula. Now that sounds convincing!
Their certainess of stay power comes from their waterproof formula which is also known to glide smoothly with a rich, creamy and silky texture, quickly drying to a smudge proof finish.
The ease of application and ability to not crease makes it suitable for anyone and any look whether you are after a subtle every day or a bold wing finish.
A full in depth review can be viewed here!
Melt cosmetics gel liner
If you are after a vegan gel liner which has quite a few colour options, then you are going to like the melt cosmetics liner!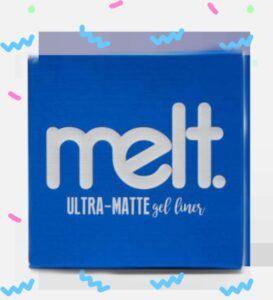 With around 11 different shades ranging from rose gold metallic to peacock blue, these silky gels are great for those of you who love to define the eyes with a bit of colour pop to the lids.
The ultra pigmented gel liner is said to glide with ease, adding a long-lasting, smudge as well as crease proof look.
Tap here for an in depth review of melt cosmetics gel liner!
Revolution gel eyeliner pot
The makeup revolution gel liner is for anyone 'looking for a dramatic wing'! This product doesn't come on its own, it's accompanied with an angled liner brush for the 'sharpest flicked liner'.
Revolution beauty claim this gel formula is 'highly pigmented' and lasts all day without 'cracking or crumbling'!
This product is vegan and cruelty-free
Hourglass voyeur waterproof gel eyeliner
Coming in 5 awesome hued shades with matte and shimmer finish the hourglass gel liner is not the best of beauty award winner for no reason, it apparently delivers high impact colour for up to 12 hours! Shades available include emerald green, bronze metallic, brown, black and even chestnut!
It features a creamy consistency and precise tip that allows you to create subtle lines or add definition without needing to touch up throughout the day. It promises a 'smudge-proof, budge-proof' as well as waterproof finish that doesn't fade or bleed.
Do you have a particular form of eyeliner which you prefer? And why? Drop your answers down below in the comment section!
Have a great day!?
Please follow and like us: