The Charlotte tilbury full fat lashes is a glossy black coloured mascara which was suggested to me by a friend who swore it adds great length and drama the more you apply it!
So taking her word for it, I decided to grab myself one and give it a go! If you'd like to know how it went for me then continue reading as I go through my favourite aspects as well as anything I weren't a fan of!
Starting of with…
Description
Disclosure: This post may contain affiliate links which means that I may earn commission if click and make a purchase but no additional cost to you.
This award-winning mascara according to the brand offers a buildable formula which doesn't only add definition but volume and a touch of enhancement to your lashes too!
The applicator is a 'five grooved' designed brush that allows the correct amount of deposition of mascara along the lash line, along with some lifting of your lashes too! The formula is said to not dry nor flake ultimately leaving you with a 'finely separated and naturally defined' eyelashes.
Application
Okay so how does it actually perform?
Well starting off with the application, the brush does visually seem similar to much of the mascaras I've tried, with a mixture of bristles, short and long and as for the deposition of product, I am pretty satisfied with its work. It does appear to separate my lashes whilst coating them evenly too.
Though I have naturally thick lashes, I like how this mascara managed to add some visible definition so I'm guessing it'll do wonders for individuals with naturally thin lashes. Of course with definition comes volume and certainly enhancement.
I'm not too sure why the brush is known as 'the 5 grooved'.
Pigmentation
Now Charlotte Tilbury does mention that their formula doesn't 'dry up and fall onto your cheeks', which I can tell you I have experienced many times in the past, oh and there's the statement of no flakes too but is this correct and to what extent?
Well for starters I'll give Charlotte a point for actually creating a formula that's buildable as usually the more I apply, the more I end up with clumps hanging onto my lashes. With the full fat formula I got to apply a couple times without clumps, met instead with beautifully separated lashes.
As for the drying of the formula, I would say it did reasonably well for the first couple hours however towards the 5th hour I did start to notice some specks of dryness. However, I'm not complaining as it's something I'd expect with my circumstances especially with me having a habit of touching my face!
And besides the brand was right as it didn't dry up and fall onto my cheeks, I had a part to play.
Lastage
According to the site around 97% of the 100 women tested agreed that the full fat lashes were long-lasting, over the course of 7 days. Everyone's experience vary since factors such as weather conditions, activities, your lashes and much more definitely having some sort of influence.
How was it for me? I typically don't wear makeup for long periods of time, averaging around 6 hours unless I'm really lazy then I'll push it for a couple more.
But anyways this mascara gave me strong results for most those hours except for the minor specks but other than that I was happy with the results.
I do believe the mascara can go for another couple hours with maybe another top up somewhere in between those hours.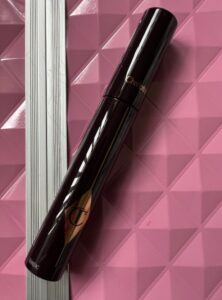 Overall
With that being said I give the Charlotte Tilbury full fat lashes mascara a big fat 8/10! I'm impressed with the performance and results as well as the lastage.
I can say my lashes were coated evenly therefore impressed with the results however I didn't experience the 'push up and out' feature the mascara mentioned, I mean it could be because of my heavy lashes. So I guess my friend just about gets away with it!
So that's it for now peeps!
You could tap here if you'd like to purchase it!
And if you don't want to leave then I suggest you tap here to check out more awesome vegan mascaras!
Have a great day!
Please follow and like us: