To be honest I'm not a fan of setting powders, I prefer sprays even though I have combination skin, I don't know why, maybe I'm scared that they won't work or they take a little longer to get on, I really don't know! So you are probably wondering how did I end up getting the nyx can't stop won't stop setting powder?
Well it seems like, that day I plucked enough courage to try something new, something I'm not to keen on!
I didn't just randomly pick it though, it was recommended for oily and combination skin so I thought why not?
If it doesn't work, I'll hand it to my sister and if it does HURRAY I've finally broadened my makeup taste.
If you'd like to know how it went down then continue reading as I go through my favourite and the not so cool aspects in this, nyx can't stop won't stop setting powder review!
NYX state this setting powder is a 'total beauty boss'. It's ment to feel comfy and featherlight and 'silky-soft' whilst absorbing oil, leaving skin with a 'smooth, matte and fresh-looking' finish.
This setting powder can be used under the eyes, on the cheekbones and along the t-zone areas, or brushed over the whole makeup!
Shall we start now? YES!
Disclosure: This post may contain affiliate links which means that I may earn commission if click and make a purchase but no additional cost to you.
Quick overview:
Pros
Does contain excess oil
Lightweight
Increases foundation lastage
Clever packaging – great for spillages
Cons
Could do with more undertones
Less product packed
Packaging
The packaging is a round shaped small tub, once you open it, you have an empty (unless you have shook it) bowl shaped layer with holes at the bottom, where the powder should come out of.
The powder itself is situated at the bottom and comes out when given a little tap.
The packaging I feel isn't a problem, it's quite cool in the sense that no product spills out if you accidentally put it upside down.
I can be a messy person especially when in a hurry which means I'm most likely to just chuck it anywhere, I'm glad I won't be wasting products unintentionally.
I have heard quite a few people complain about the packaging, that the powder is hard to get out but I don't find it to be.
You literally just have to tap the pot and it'll come out of it's compartment easily, you don't have to shake it! The product can then be grabbed using a brush, a cotton pad or whatever you use.
Shade range
The nyx setting powder is available in 6 shades. There is light, light medium, medium, medium deep, deep and last but not least banana.
Nyx state these shades are created to be used by multiple skin tones, I would say this is true to some extent, well at least in my opinion.
I use the shade 'medium' although I think 'light medium' would probably best suit my skin tone. Regardless it fits in nicely with my cool undertone, so I think I'm going to stick with it for the moment.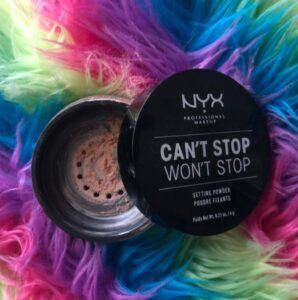 Although the shades do fit in well with a range of skin tones, I believe the 'light' shade may be a tiny dark for fair complexions, creating another shade or two would be awesome!
But then again that's just my thought so don't take my word for it.
Application
To apply I used a powder brush, it grabs product much easily through the packaging and packs a decent amount of product.
I don't think using fingers to apply would be a good idea especially if you have oily skin as it will encourage oil production.
Though I did use my fingers for applying under my eyes and it was fine but for oil prone areas stay clear!
With the beauty blender, I didn't find it too hard but if you are going to be grabbing the powder straight from its pot then it can be a little awkward.
Let's just say it's not the tidiest of way to get it out.
Performance
After applying a liquid foundation, I gently buffed a little bit of the powder on my forehead and just on the nose, which is also known as the t-zone.
I have combination skin so the t-zone area tends to get all shiny and oily which usually drastically reduces the overall makeup lastage.
I also used a little under my eye to help conceal the dark mark.
Overall I found that I'm pleased with the results! I didn't experience any cakiness under my eyes where I sometimes do with other setting powders, which is the whole reason why I stopped using powders for a while, so credits for that!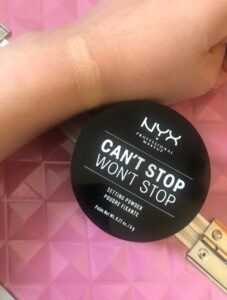 As for its performance on keeping oil under control, I would say that it was in the middle.
It did absorb much of the oil on my forehead like it said it would however the finish didn't look totally matte, I'm not sure if this is the moisturizer which I used underneath coming into play or the actual powder.
I'm going to try it without the moisturizer and then update!
Once on me, I didn't feel any heaviness or stiffness so when nyx said featherlight formula, they certainly were right.
The texture on the skin was smooth too, no bumps or patches visible.
The powder did increase my whole makeup lastage for up to an extra 2 hours, so usually where my foundation would start to melt on my forehead at around the 5th hour it definitely elongated it for around 2 more hours.
Overall
Overall I would rate this nyx setting powder an 8/10! I am going to keep it for the moment and use it for days when I need my makeup to stay for extra long periods of time and when looking like a shiny ball would be a total embarrassment.
If you have oily or combination skin and are looking for a powder form setting product that doesn't feel heavy then I would recommend you try it out!
By the way, if you want to check out the NYX powder foundation then click here for the full review! I found it quite useful for my oily skin areas!
Or tap here for the affordable NYX eyeshadow primer!
If you do I'd love to know what you think of it! Let me know in the comment section below!
If you have any suggestions of setting powders or spray that are vegan, let me know, I'd love to try them out!
Have a great day!?
Please follow and like us: