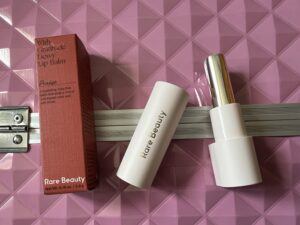 The Rare beauty lip balm created by Selena Gomez is a vegan and cruelty-free balm with 1% of the proceeds kindly going to the rare impact fund! This balm apparently feels so good your lips will thank you!
If you'd like to know how it performs then continue reading as I go through my favourite aspects as well as anything I weren't a fan of.
You can check out the rare beauty liquid blush here, a perfectly fitting product to go with the lip balm!
Let's begin!
Disclosure: This post may contain affiliate links which means that I may earn commission if click and make a purchase but no additional cost to you.
Description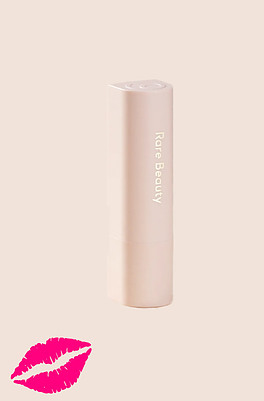 The rare beauty lip balm is a sheer coloured tint offering a soft shine that apparently you can 'throw on without a mirror' and get it right too! It's said to glide on smoothly with a 'satisfying slip' that should feel comfy and 'cushiony' and not sticky or greasy.
This lip balm should feel weightless and provide hydration as well as buildable colour for a well 'nourished and nurtured' lip. The result a fuller and healthier looking pout with the ability to blur fine lines too!
Oh and they're suitable for sensitive skin too!
Shades
The rare beauty balm offers 7 different tints to choose from, ranging from rosey to peach. The shades are named not the usual titles but based around words that offer some meaning. They are; compliment, support, appreciate, thankful, blessed, praise and empathy.
My favourite shades are blessed which is a bright coral, compliment a muted berry and praise, which is a muted peach.
Application
Application is easy and not a problem, the overall design of the lip balm makes it comfortable to hold, it's not slippery.
The thickness of the balm is just right, able to cover the width of my lips with just one swipe.
As for the formula it glides along nicely without the need to tug even though I have quite chapped lips. The formula also provides great hydration which I think is thanks to the addition of shea butter that's apparently known for locking in moisture resulting in 'smooth, supple lips'.
The brand also mentions the inclusion of 'lotus, gardenia, and white water lily' that soothe and calm lips. I believe this all did make a difference to my lips personally as usually I apply a moisturiser before the lip product and it still manages to crack up but thankfully this wasn't the case with the rare beauty balm.
The consistency is not thick or greasy but a light dewy finish.
Lastage
These are lip balms remember, more about hydration than colour, so I wasn't expecting too much wear power from them. How did they do?
Well I think it did pretty well, it sticked around for 4 hours till the colour started to fade. In my opinion it's quite good coming from a balm. I even ate a few times whilst it was on.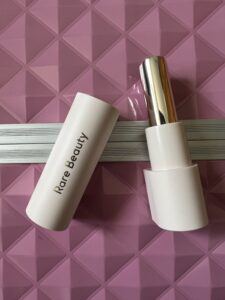 The darker colours probably have more pigmentation to them so last a little longer but who cares, it doesn't really bother me since it is really simple and quick to re-apply, like rare beauty state. I would say they are buildable for sure!
Overall I give this lip balm an 8/10! The lastage is decent and so is the applying a breeze. The pigmentation, it is light yet effective and keeps my lips hydrated too, so a job well done. I would summarise it as a lipstick that feels like a balm!
Why not check out other vegan lip balms by tapping here!
Or if you've made up your mind tap here to purchase your own!
Have a great day!
Please follow and like us: