I decided to purchase the Glossier pro tip eyeliner along with the Glossier lip gloss after hearing a few good comments about this brand. Though I haven't much experience with glossier I just went with my mind and bought the products.
If you'd like to know if I made the right decision then please read on as I go through the ins and outs of this liner!
Quick overview
Pros
Easy to apply
Quick drying
Flexible tip
Longwearing
Waterproof
Cons
Can split easily
Pigment at times isn't as expected
Product description
Starting with a brief description of what this liquid eyeliner is about.
Glossier claim this product is a 'easy-to-use black liquid eyeliner' which has a brush tip allowing for 'precise definition'.
The formula is ment to be smudge resistant and should have the stay power for up to 12 hours! (Now that sounds like something I definitely need!)
The flexible fibers which are used in the brushes tip are specially created for easy application.
Now let's see if any of this claim is true!
Packaging
First up the packaging!
The eyeliner is packed in a simple baby pink slim box. With the brand's name in a white font which is just about visible when you pay attention to the package.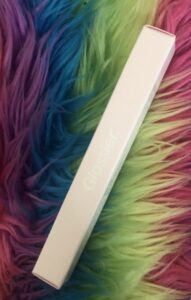 The same concept is carried onto the actual eyeliner, a baby pink shade along with the brand's logo however this time it is in bold black letters.
I would have easily mistaken it for my coloured pens if the same light colouring had been imprinted so thank goodness for that! Not that it bothers me that much.
Packaging = 6/10!
Application
I really love winged eyeliner and I'm sure you peeps do too but like many, I'm guessing, can't get that perfect or at least a satisfactory line!
I've tried a variety of liners that claim getting a winged look is easy with their product but so far, to be honest I haven't achieved that with many.
And so like many eyeliners out there glossier state their liquid eyeliner is designed with flexible fibres which 'hug the curve of the lash line for easy application'. In other words you should be able to decent line with ease. So did I?
Well I can tell you it definitely was easy to apply. Once I had a steady hand I was able to get a neat line surprisingly.
I didn't need to put any extra pressure so no dragging was needed. Overall it was a smooth application.
The formula dries quite quickly meaning it certainly passes the smudge resistant test.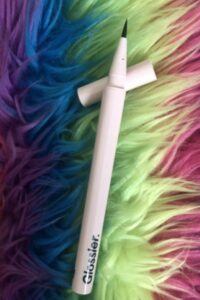 I can see what glossier meant by their flexible fibers. As you hold the pen to your lid and draw across it feels more like a brush, almost like you are painting then a hard tipped pen. It also fills in the lash line nicely.
However this also means the tip is likely to split easily. I have noticed if you aren't careful of how you shut it or apply it then you are going to end up with a messy tip which equals a messy wing!
Application = 9/10!
Pigmentation
The colour deposition, at first I wasn't a fan of but then I became accustomed to, I'll discuss why.
So basically I tried the pigmentation strength first on my hand and it seemed too light for my liking. I then gave my lids a try and it was a little better but still not to my expectation.
But after using it for a bit I realised the pigmentation is actually good in a way.
If you make mistakes then it's much easier to rub off then a deep jet black mark and plus it's super buildable so if you are after an intense look then you can layer it with ease.
Skip forward a few tries, I've started to keep it in a upright position with the tip pointing down, it gives a much darker colour.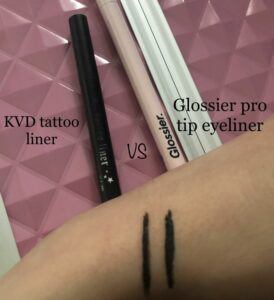 Just to add, I had to keep my pen upright after a while of using it as I had thought I ran out of the product.
Keeping it flat for example in makeup cases, especially when the pen is near the end of its life, causes the formula to spread out instead of flow smoothly.
Imagine I hadn't decided to keep it with the tip facing down, I would have wasted quite a bit of product!
Pigmentation = 7/10!
Lastage
The glossier pro tip eyeliner is said to last for up to a whopping 12 hours. I would like to say this is true to some extent.
I say some extent as I didn't leave the liner on for that long, I wiped it off at around the 9th hour and it was still going strong.
I definitely can see it going for another couple of hours so in my eyes the glossier eyeliner is a product of long lastage.
There was no need for me to top it up or clean up any smudges so overall I say this is a great eyeliner.
And as for how long the whole product lasts, it roughly got through 9 months of daily use. I used it for my top lid to do the winged effect.
Lastage = 9/10!
Update: I decided to use it whilst going for a shower, don't ask me why I hadn't rubbed it clean beforehand, but guess what?! it still remained intact although a little lighter.
It's ok if you don't believe me but I am not kidding!
If you are after a longwear, smudge resistant liner which is actually easy and smooth to apply I suggest you give this product a try! This liquid eyeliner gets a 9/10 from me!
If you do, let me know how your experience was with it in the comment section below!
I think it would be awesome to see the brand design various colours in this liquid eyeliner, that would give it full marks!
What do youse all think?!
Anyways that is all for now peeps thanks!
But if you don't want to leave then I suggest you tap here to check out more awesome vegan liquid liners!
Have a great day!?
Please follow and like us: