I had been told by quite a few people, more specifically my friends to check out the lily lolo natural vegan mascara. They hadn't told me if their experiences with the product was good or bad, but after purchasing it and giving it a go, I now understand why.
One of my friends had a pleasant experience and the other well let's just say it wasn't to boast about! So as you can tell it's varies for everyone so without trying I wouldn't know!
Anyways I'm here to talk about my trial so if you want to know then please do continue reading as I go through the ins and outs!
Disclosure: This post may contain affiliate links which means that I may earn commission if click and make a purchase but no additional cost to you.
A quick overview:
Pros
Clean formula
Sensitive eye friendly
Perfect sized wand
Cons
Can get clumpy if you keep coating
Lengthening results aren't so visible if you have long lashes until you coat further.
Starting off with the description…
Description
The Lily Lolo vegan mascara state this natural product will help 'create the perfect doe eyed look' with it's 'lash defining, volumising and lengthening effects'.
This mascara is also said to be kind to sensitive eyes, making it suitable for every and anyone!
The vegan and 95% natural ingredient definitely make this mascara a great choice for those natural lovers!
Other unnecessary or unsafe chemicals are excluded too, such as parabens, silicone, synthetic perfumes and much more!
Application
In my opinion the applicator is just as important as the formula itself. If the applicator is cheap and doesn't allow even product deposit then what good results are you going to expect!?
The applicator and formula must work together to create the best experience!
Okay enough of that, so how was the application?
Lily Lolo state their mascara provides an easy and 'smooth application'. And you know what they were right to say that.
The formula did go on easily, gliding onto each lash effortlessly. The wand was the right size too, fitting well within my eye length.
It wasn't too big which otherwise would have gotten the mascara way beyond my lashes.
Lengthening?
I have naturally long lashes and they're kinda heavy, and because of that they start to hang down on the corners so I have to always curl them.
So when I applied the lily lolo mascara I wasn't really expecting any visible results.
However this did surprise me a little when I noticed my lashes had at least appeared visibly defined.
Though it hadn't added much length, I'm still happy with the defining results.
Does it add volume and define
As you can tell from what I wrote above, the mascara does add to some extent definition but what about volume?
Well as for the volume side there is ….
Good news! And…..
Not so good news!
The formula does add a decent amount of volume but that's after a few swipes. As the formula is on the thicker side you can imagine what the extra coating would look like! It gets a little clumpy after the second coat.
For my already long lashes I think it did a good job, not perfect but still wearable.
Suitable for sensitive eyes?
I have sensitive eyes so every time I apply products near my eye, they just start dripping with tears.
It's quite annoying because sometimes I may take a while doing my makeup, only for it to end up messed thanks to the tears!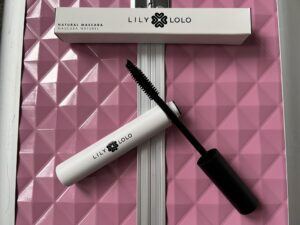 Even makeup items labeled as 'suitable for sensitive eyes or skin' can trigger my poor peepers! So as you can tell for the lily lolo mascara I didn't have too high hopes.
But I hadn't to worry, the formula didn't irritate my eyes, though at first they did appear a little red, I mean it could have been the new eyeliner I used. Oh well as long as it didn't open a whole river I'm fine!
To put simply I can say the natural mascara is sensitive eye friendly!
On to the side which didn't really appeal to me, the downside for me was how quickly it came off or run down at the sight of water.
It also transferred under my eyes if I didn't wait the extra seconds to dry! Guess I'm a little impatient!
Overall I'd say this mascara is a 7/10! The natural formula was definitely it's strongest point and the weakest being not so much of the volumising rather the aftermath.
The formula did start to flake and crumble towards the end. But other than that I think this natural vegan mascara would be great for casual wear, either at work or a no to natural makeup look. If you'd like to grab one then tap here!
Don't worry if you feel like this mascara isn't the one for you, you can view more awesome vegan mascaras here!
Or for if you're looking for something strong then tap here for waterproof mascaras!
Have a great day! ?
Please follow and like us: