Large eyeshadow palettes can sometimes prove difficult to travel around with but if you think about it, if you have a palette with a range of hues then it's actually pretty handy as you don't need to carry many individual palettes but of course it's bulky size doesn't help if you're tight on space!
Anyways it's not always about traveling, it's the creation! Okay I think it's time to go through some awesome vegan eyeshadow palettes!
Starting off with…
Beauty bay 42 colour palette
Beauty bay have more than one large palette eyeshadow, holding around 42 shades each. Wow that's massive right! This particular colour palette features an all matte finish so a great product for those who aren't a fan of shimmers. If you prefer neutrals there's a palette for that too!
The palette comes with its own handy mirror and of course at a large size too, you can view your whole face at once! According to beauty bay each shade features an 'intense pigment payoff' as well as some super stay power, helping you to create an 'infinite number of multidimensional looks'.
You can tap here for a full review on the beauty bay colour palette!
Jeffrey star cosmetics jawbreaker
Another bright filled palette, the jawbreaker eyeshadow by Jeffrey star features 24 hues based on a 'rainbow colour story'. The jawbreaker contains not only mattes but shimmers as well as metallics.
Some of the shades in the palette contain pressed pigment too! This eyeshadow comes with a useful mirror.
XXRevolution shadow palette Nexxt generation
With a whopping 66 shades the nexxt generation palette by revolution is packed with 'next level matte and foil finishes' enabling you to create what your heart desires! This palette holds everything from cool tones to warm hues that include light to deeps and not forgetting the pops of metallic shimmers to finish your amazing look!
This palette is vegan and cruelty-free! The 66 shaded palette is broken down into 6 jumbo sized hues and the rest are regular sized.
Ciatelondon I am a women palette
The I am a women palette was released on international womens day! The 24 shaded eyeshadow palette consists of an array of choices, you can pick subtle and soft nudes, shimmering neutrals, 'buttery mattes' as well as 'intense metallics'. Each shade is said to be formulated to be creamy and pigment-rich so applying is a breeze!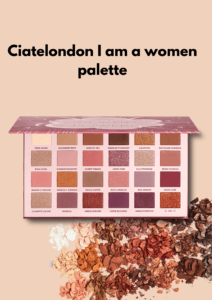 I think it's cool how each shade is not only inspired but named after powerful women who brought about change thanks to their dedication. There's even a shade called 'YOU' that's inspired by you the 'everyday superhero and queen of your own life,' which I think is so sweet!
Lime crime greatest hits banger eye and face palette
As you can tell by the name this palette isn't to be only used on the eyes, it can be used to create your art on the face too! Choose between 18 hues ranging from nudes, pinks and even grunge shades. According to the brand this palette consists of shades picked from its best-selling palettes!
You can sculpt and shade their creamy mattes, or their multidimensional duo chromes and even add drama with 'lustrous metallics and foils'. The greatest hits banger palette comes with a mirror and a pretty floral design, a great addition to ones collection!
If you're looking exclusively for neutral eyeshadow palettes then I suggest you tap here to check them out!
Have a great day!
Please follow and like us: