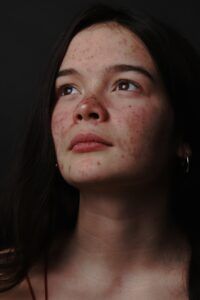 Are you after a vegan foundation for acne prone skin? Then my friends you're at the right place! Tag along as I go through some awesome foundations made to help the troublesome acne!
Acne or blemish prone skin is a skin type which is likely to develop breakouts often, this can include pimples, blackheads, clogged pores, excess oil, comedones as well as other irritation to skin.
Before we start let me just mention what type of products those with acne prone skins should be going for.
First of all you should be drinking plenty of water and eating healthy too! Now what products to look for?
It's usually best to go for products with salicylic or azelaic acid formulas as they hold anti bacterial properties and help cleanse the skin.
Products that are non comedogenic as well as oil free are also a good option!
Right! Now that we have a little idea of what to look for, I think it's time to start! Don't you?
Okay here we go!
Quick overview 
Elf acne fighting foundation
Inika organic liquid foundation
Pur 4in1 love your selfie longwear foundation and concealer
Bare minerals original foundation
 Catrice hd liquid foundation
Lisa Eldridge the foundation
Elf acne fighting foundation
It's in the name 'acne fighting'! This foundation by elf provides a full coverage with ingredients like salicylic acid, witch hazel, tea tree and aloe Vera to help calm acne!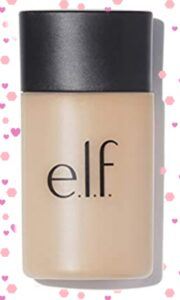 Salicylic acid is known to help acne by exfoliating and cleansing the skin, deep inside the pores.
Elf state this acne fighting foundation reduces acne redness with a lightweight formula so you can enjoy the coverage without weighing your skin down.
Why not check out the full review by tapping here!
Inika organic liquid foundation
The inika organic foundation is a great product to give a go for peeps with acne prone skin due to its natural and organic ingredients.
It's available in 8 shades each with hydrating properties!

It's key ingredient, which happens to be lavender oil, has the ability to calm acne with anti fungal properties too!
Argan oil another essential ingredient, calms irritation and repairs damage which might be useful for acne.
Inika state this foundation is suitable for all and every skin type, be it sensitive, dry, oily or a combination!
Want more information on the inika foundation then I suggest you click here!
Pur 4in1 love your selfie longwear foundation and concealer
A 4 in 1! You don't hear that often! This foundation and concealer helps ' blur the look of imperfections' which definitely will prove useful when trying to conceal acne marks, but that's not all, it's infused with a load of skin caring nutrients which help ' fight against environmental stresses as well as skin damaging effects'.
Other skin beneficial ingredients include green tea, ginseng and vitamin B. You are probably going to be shocked after hearing they have a massive range of shades, around 100! Like really!
Bare minerals original foundation
This ones comes in a different texture compared to the others mentioned here, it's in a powder finish.
The bare minerals original foundation is a lightweight, sheer to full coverage loose powder with the ability to achieve a no makeup look!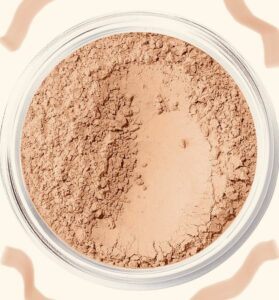 But why is it good for acne prone skin? Well it's made from only five mineral ingredients which is said to 'promote clearer, healthier looking skin over time'.
But that's not all apparently it's so pure you could sleep in it! Now if that doesn't show how natural and pure it is then I don't know what is!
It's available to purchase in 30 shades!
Catrice hd liquid foundation
This liquid foundation provides a full coverage finish but with a lightweight feel that doesn't 'smudge, budge or transfer'. Its free from chemicals like parabens too!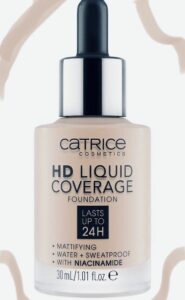 If you're a fan of airbrush effects then you'll definitely want to give this a go!
The niacinamide used in the foundation helps reduce skin blemishes, leaving a clean, refreshed and flawless complexion for up to 24 hours!
I think you'd also like to know its water and sweat proof too!
Lisa Eldridge the foundation
The foundation by Lisa Eldridge comes in a variety of shades with various undertones too, around 40! These foundations are known to be self setting and blend 'effortlessly' forming a smooth 'soft focus effect'. The finish isn't dewy neither matte but something in between 'skin like'! Sounds awesome right?!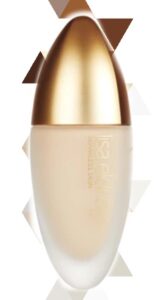 It is a medium coverage skin friendly formula which features key active ingredients like uji tea extract leaves known for its health giving properties, antioxidants and protection from free radical damage, this reducing inflammation and premature signs of ageing.
A biopolymer called filmexel acts as a natural barrier against irritants by forming a 'resistant and flexible mesh'!
And these are just a small bunch of examples of the skin benefitting ingredients!
Do you have a foundation which you prefer using? Let us know in the comment section below!
And don't forget to check out foundations for sensitive skin too!
You can learn more about acne by tapping here!
Have a great day!?
Please follow and like us: