Do you suffer from dry, chapped lips? Longing for a soft and supple pout then I suggest you check out these best lip scrub for dry lips!
Lip scrubs are a little different to the usual moisturisers or balm you can get in the sense that scrubs get rid of dead skin cells on the lips as well as moisturise. Scrubs have a rough texture due to the addition of sugar whereas balms are smoother and are great for hydration.
Right shall we begin? I think so!
Quick Overview 
The body shop mango lip scrub
Face theory lipascrub LP2
Beauty pie soul providers
DR pawpaw scrub and nourish
Makeup by Mario perfecting lip scrub
The body shop mango lip scrub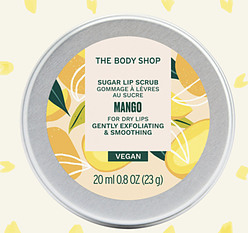 The body shop lip scrub in mango flavour is especially designed for dry lips to help exfoliate and smoothen your pout gently! This vegan formulated product can be felt melting instantly as soon as you smear it onto your lips. Don't forget to buff it afterwards for the ultimate 'soft, supple and kissable'.
This sugary solution to those dry chapped lips is made up of 97% natural origin ingredients. It is enriched with mango seed that supports community fair trade from India whilst the shea butter is from Ghana which helps provide 'financial independence to over 600 women across 11 villages'.
Face theory lipascrub LP2
The face theory lipsascub LP2 with sugar, avocado and coconut is built to exfoliate, smooth as well as hydrate even the most severely chapped lips without the use of beeswax or petroleum. The sugar enables dry and dead skin is scrubbed away gently whilst the avocado oil alone with coconut extract emolliate and soothe. This ensures your skin can easily absorb moisturise along with other active ingredients.
Without going to into too much detail some of the ingredients used such as castor oil is enriched with monounsaturated fatty acid which helps your skin attract as well as retain moisture whilst the avocado oil contains protein, betacarotene, vitamins C, D, E, and lecithin for a well hydrated and soothed skin. There are also a bunch of other amazing ingredients too! I think you would be happy to know this scrub is free from many junk like SLS, SLES, PEG's, silicones, Parabens just to name a few.
Beauty pie soul providers
Featuring lemongrass along with black pepper, apricot and evening primrose oils, the beauty pie soul providers ensures you are treated well whilst you exfoliate. It claims to provide 'velvety soft skin' in just 5 minutes. There is also the addition of Indian gooseberry which is an antioxidant whilst Holy Basil extracts is known to detox which promotes purity and lightness.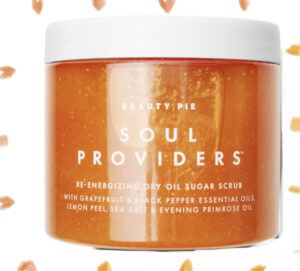 This lip scrub will definitely provide more than just a well hydrated and cleaned pout thanks to the infusion of many beneficial ingredients including essential oils. The soul providers re energising sugar scrub is suitable for all skin types and you must know it should be given a good shake before using!
Dr pawpaw scrub and nourish
An award winning product the Dr pawpaw scrub and nourish lip scrub is described as a 100% natural Korean beauty technology inspired duo, since it is a balm as well. Each scrub and nourish pot is packed with 'papaya, Aloe Vera, and olive oil' as well as other natural ingredients. Papaya helps rejuvenate, nourish and hydrate whilst Aloe Vera is full of antioxidants and contains anti bacterial properties.
Dr pawpaw is suitable for all skin types including sensitive. I think you would be happy to know that it is a multi tasking product as it can be used not only on the lips but on the face as well as skin to hydrate and nourish.
The packing which it is situated in is not only travel friendly but space friendly too thanks to the stackable pots.
Makeup by Mario perfecting lip scrub
The perfecting scrub by makeup by mario is described as 'all-natural, edible lip scrub' which buffs, exfoliates as well as hydrates leaving you a healthy, juicy pout! It uses micro fine sugar crystals which gently work to reveal a much smoother, softer along with supple looking pout.
The makeup by mario perfecting lip scrub features coconut oil for conditioning and restoring dryness along with flakiness whilst the addition of vitamin E protects against free radicals and environmental aggressors. Vitamin E also helps stimulate collagen and cellular turnover.
Use this scrub on it's own or as a way to prep. The choice is yours!
Right that is it for now peeps!
Have a great day!
Please follow and like us: