Shimmer eyeshadows look cool as they are able to reflect light due to the tiny particles they're made up of. This means they can appear as if they're more than one hue. Shimmers are also finer in contrast to glitter and subtle. Check these best shimmer eyeshadow palette below for the ultimate shine!
Quick Overview 
Nabla glorious light glitter palette
Revolution pro ultimate crystal eyeshadow palette bejewelled
Lime crime prelude chroma eye and face palette
Barry M midnight scene eyeshadow palette
Nabla glorious light glitter palette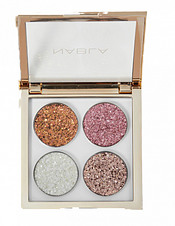 A small palette made up of 4 sparkly shades, the nabla eyeshadow is what you need to cover intense eye looks. These magnetic shadows have a trio chrome finish which means they glisten as 3 different colours depending on the light and a 'multi-dimensional glitter formula' with apparently one swipe brining enough colour payoff. They're also reflective under light! Sounds cool!
The 'soft formula' requires no primer or glitter glue with minimal fall out!
The quad palette is both vegan and cruelty free.
Revolution pro ultimate crystal eyeshadow palette bejewelled
Featuring 16 'high performing' shades including shimmers, mattes and glitters, this palette surely is a jewel in itself. Even the casing is jewel encrusted! Plus a handy mirror too, what's not to love!
Each shade is formulated to offer 'incredible colour payoff' and with a velvety smooth finish, application certainly must be no trouble. The shades are mainly cool and metallic based. This one palette allows you to create looks from day to evening.
Lime crime prelude chroma eye and face palette
'channel your originality in every look'
Lime crime state you can't go wrong with their prelude chroma palette which hosts finishes in matte, metallic, foil and even sheer iridescent. And yes most of the shades do add a touch of shimmer! They can be used on the eyes along with the face too.
Shades include teal, plum, blue-green, beige and copper. The formula is said to be buttery-smooth with a colour payoff that's 'striking as the goddess' wavy locks'!
Barry m midnight scene eyeshadow palette 
Featuring 18 'dreamy celestial hues' the midnight scene palette hold's buttery mattes as well as 'pigmented' shimmer finishes, enabling you to build 'infinite show-stopping' looks.
This palette holds a bit of neutrals as well as some pastels which can be combined to create unique possibilities.
If you prefer glimmer but with more pigmentation then I think you'll find metallic shade palettes a better option, you can check them out here!
Or check out these light reflecting glitter eyeshadows that look great whether day or night, helping bring alive any look!
Have a great day!
Please follow and like us: