Metallic shades have some shine or shimmer to them, they're different to the usual shimmer or glitter finishes, metallics have almost a foil effect. They also have more pigment to them compared to shimmers. These Metallic eyeshadow palettes will surely add that underlying shimmer that you're after!
Plus they're vegan and cruelty-free, what's not to like!
Let's begin!
Disclosure: This post may contain affiliate links which means that I may earn commission if click and make a purchase but no additional cost to you.
Quick Overview
Elf celestial winter eyeshadow palette
Collection matte & metallic duo liquid eyeshadow
Isamaya industrial colour pigment
Barry m euphoric metallic eyeshadow
Elf celestial winter eyeshadow palette
A perfect palette for winter, the celestial eyeshadow palette features 10 metallic as well as matte and shimmer shades, all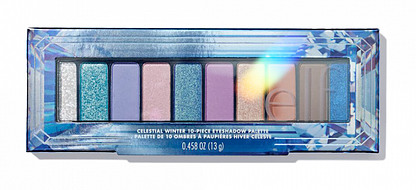 inspired by a winter night sky!
Each shade is said to feature a 'ultra pigmented' and blend-able formula allowing you to create 'endless looks'.
Application is also made easy thanks to the smooth and creamy texture. This palette leans towards neutrals, with a mix and match for a jewel-toned look too. The celestial winter palette is vegan, cruelty-free, free from phthalates, parabens along with other junks!
The matte and metallic by collection cosmetics is a duo liquid eyeshadow, a matte on one end and a metallic on the other, quite handy right?! This dreamy duo features a high pigment which 'packs a punch', applying in a creamy consistency but drying down to a powdery finish.
The two complementary shadows are available in 3 shades altogether; Nude/Gold, Pink/Rose & Taupe/bronze. These soft mattes come with their own doe foot applicator so you can glide them on quickly with no problem. These shadows are suitable for layering or on their own as you please.

Isamaya Industrial colour pigment
Metal glint and diesel fume, this eyeshadow palette is apparently a 'rebellion against beauty convention', drawing its inspiration from 'grunge with a punk purview', sounds cool!
This palette holds 14 richly pigmented shades which includes soft mattes as well as cosmic metallics that can be applied with your fingers, blended with a brush and applied on the eyes or face as paint. Basically there is 'no rules, no boundaries'! You can even add water to their shades which apparently intensifies the pigment.
Barry m euphoric metallic eyeshadow
Coming in individual pots, the metallic shades are available in six shades, including red, green, navy, gold in 2 tones, and bronze. These creamy shades are perfect for anyone wanting a subtle everyday look or a more eye-popping evening look.
The euphoric shadows are richly pigmented enabling a 'smooth, crease-free application', less certainty goes a long way. If you want the full metallic look then you can take a look at their collection which features metallic liners plus cream shadows.
That's it for now peeps! But if you don't want to leave then tap here to check out other awesome vegan eyeshadow palettes!
Have a great day!
Please follow and like us: