The elf big mood mascara is not only a vegan and cruelty-free mascara, it's paraben free too! Plus it is a best of beauty winner too!
And since I was on the look out for a new mascara that delivers dramatic results whilst also being within my budget I decided without a doubt to grab myself one!
If you would like to know how the elf big mood volumizing mascara performs then continue reading as I go through my favourite aspects as well as anything I weren't a fan of!
Here we go!
Disclosure: This post may contain affiliate links which means that I may earn commission if click and make a purchase but no additional cost to you.
Description
The brand elf describe the big mood mascara as a clean formulated product ultimately designed to lift and volumize your lashes. The formula is infused with jojoba oil helping give the mascara a 'Smooth, creamy,' texture. The big mood mascara should provide bold and dramatic performance all day long with smudge free results too!
Their applicator has a unique form in the shape of an hourglass which supposedly separates, lays down pigment along with define each individual lash. Apparently there are 250 intertwined bristles making up their unique hourglass brush head. So it does seem like application must be easy!
A study conducted from a few consumers found 100% agreed the elf mascara delivered lengthening effects too! I'm not too sure though how many individuals were involved though but the results do seem promising. Plus the best of beauty allure award-winning label, there shouldn't really be much disappointment.
Application
Judging by what elf state about their big mood mascara it certainly does seem application must be a breeze. The creamy formula infused with jojoba oil combined with their hourglass, 250 intertwined bristles sure gave me hope that finally this maybe the affordable product that I have been looking for!
So did the mascara provide 'confidence in just one swipe'?
Well application was certainly easy, nothing too different to the usual mascara brush heads. I used the zig zag method to deposit even formula which worked well. The creamy texture of the formula can be felt as I scraped the excess product off.
Application for the second round of product distribution was okay, it could have been better. The first layer of mascara had seemed to dry quite quickly which is good don't get me wrong however it did make applying a little tricky since the base was a little crispy and not smooth.
So basically it is 'Smooth, creamy' for some time only, particularly during the first coat and then if you go to reapply after a few hours then it is a different story which is expected to be honest. The beneath layer creates a dry base which in turn effects applying a second layer when done after a couple of hours later.
Performance
The results overall I can say I was proud of. The big mood volumizing mascara does 'plumps and lifts' like the brand state however I did find that you will have to apply a second layer to achieve that 'bold and dramatic effect' that elf state.
The first coat in my opinion provides a suitable effect for a natural look. It is bold and visible yet subtle perfectly fitting for an everyday makeup look. The second is where the magic happens, giving your lash a defined result therefore creating the 'lengthening effect' which was seen in the individuals that were tested. I would say the lift feature is more apparent if you curl your lashes beforehand otherwise it is not that prominent and you possibly could be disappointed if you had high hopes like me from reading their description, lol!
As for the smudge resistant claim, I would say it is true to an extent. Throughout the time I wore the mascara, there weren't no obvious smudging even though I have a habit of touching around the eye area. With that being said, there was a small sign of weakness towards the 6th hour of me wearing the mascara.
The weakness was in the form of flaking. I did notice small flakes around the area when I went in to reapply since the mascara had faded a little. Nothing too serious though!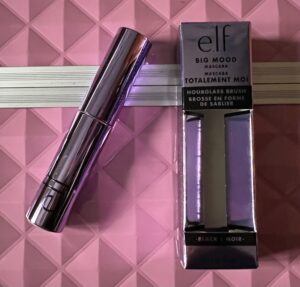 As it goes by their website, 100% of the participants agreed the elf big mood mascara does add lengthen. Now would I be that percentage or even agree with it? Well I have naturally longer lashes so I don't think it would be fair if I said no.
After all it actually does add definition and give my lashes that dramatic appearance. I think those who have smaller lashes will certainly experience the lengthening effect as well as the 'big, bold' lashes that elf claim you are left with.
Lastage
Does the elf big mood mascara manage to keep up this performance on your 'lashes all day'?
Well as you may have a hint from the mascaras performance, you can maybe judge there was slight fading and some flakes here and there but the real question is did this go as far as to effect the products wear time?
Yes and no! Yes because the fading did make the mascara seem like it had almost disappeared around the 7th hour, which I'm not saying is bad comparing it to the super affordable price it is offered at however the claim of 'plumps and lifts your lashes all day' doesn't seem exactly true!
And finally there is an element of no since 7 hour wear of a day filled with quite hard work is not bad at all! It gives a pretty decent performance of between I'd say 6-8 hours depending on what the bog mood mascara is put through.
So would I categorize it as long-lasting? I personally would but I'm not sure where it would sit with you peeps!
Overall
Overall I give the elf big mood volumizing mascara a 8/10! So all in all this mascara certainly lives up to its claim. I like how it is affordable and offers more than I expected. That includes a decent lastage, some what easy application as well as the lengthening and volumizing effect.
I also like how you have a choice of picking between the deep brown shade, ideal for a soft look or black, perfect for pulling off a dramatic look.
The only downside was that the constant opening and closing of the mascara, dries up the formula quickly. I also didn't experience the lifting power but other than that 'big, bold lashes that command attention' are surely present with this mascara!
You can check out the elf big mood mascara here for yourselves!
That's it for now peeps! But if you don't want to leave just yet than I suggest you tap here to check out more vegan mascaras!
Have a great day!
Please follow and like us: