Liquid eyeshadows are not only easy to apply, they blend seamlessly too! Liquid formulas can offer long-lasting colour on your lids too! They typically come with an applicator in a tube form. Though their texture can be thick, they are usually creamy but possess liquid qualities, making them suitable for beginners too! Anyways shall we being now, here are some of the best liquid eyeshadow which you should check out!
Let's go!
Quick Overview
Rare beauty stay vulnerable liquid eyeshadow
About face matte fluid eye paint
Beauty bay liquid crystal eyeshadow
Elf liquid glitter eyeshadow
Ciate shadow flip
Rare beauty stay vulnerable liquid eyeshadow
The stay vulnerable eyeshadow offers a quick and easy colour, going from liquid to powder in mere seconds. It leaves you with a soft 'seamless wash' of colour that is said to be long-lasting.
The shade range is quite limited with only 5 to pick from however the light and rich tones make it versatile enough for whatever occasion! There is warm neutral beige as well as a rich berry hue perfect for an evening out!
The long-lasting eyeshadow features a waterproof formula that is said to stay true to its original form all day long. You don't need to worry about creases, smudges, flaking, fading neither transferring, just pure perfection!
Got sensitive skin? Well this shadow is considerate of all skin types and that include sensitive skin peeps too! The formula also happens to be weightless and allows you to build and blend easily for a 'soft, velvety, satin finish.'
About face matte fluid eye paint
As you can tell by the name the about face fluid eye pain offers a matte, saturated pigment. Apparently one swipe being powerful enough to deliver 'bold, buildable pigment'! The shade range is also something to talk about, featuring over 25 shades which span from light to deep shade and everything in between!
All the shades are not only 100% vegan, they are clean too! According to face beauty you would love these matte eyeshadows as they swipe on easily for a 'smooth, no-budge, no-smudge finish'! These eye paints can be applied with your fingers or your favourite tool. Sounds cool!
Beauty bay liquid crystal eyeshadow
Giving the option to pick between 11 shades the beauty bay crystal eyeshadow aim to 'light up your face' as well as make your glitter ritual simple! The hues include green, blue, nude, grey, pink and much more!
Their creamy formula are suitable to rock on their own or over another shadow for a 'killer metallic finish'! And don't just stop on your lids, use on the lips and cheeks for a long-lasting shimmer! They also offer smudge, fade as well as crease free shimmer finish! Right what we need!
Elf liquid glitter eyeshadow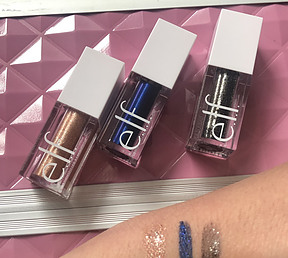 Coming in a decent sized range with 11 shades the beauty award-winning elf liquid eyeshadow features a glitter gel based formula that is infused with 'multi-dimensional glitter and pearls' giving it that shiny magical look to any eye look!
It is not only 100% eye catchy, its quick drying too so you can carry on working your art without wasting time.
The brand state this glitter eyeshadow is long-lasting and produces results with minimal fallout and a wear that's comfortable!
Thought the shades are opaque, this doesn't stop them from delivering 'high-impact' results! Plus they can be easily layered to your desire and are affordable.
You can check out how the elf liquid eyeshadow performs by clicking here!
Ciate shadow flip
The shadow flip is a metallic liquid eyeshadow that is perfect for a multi tonal look. The 'light, creamy' formula which each of the 3 shade offers allows you to create 'worldly metallic finish' on your lids in a matter of seconds. The shades are green, orange and a rosey pink.
The finish is quite cool as it shifts with every angle, producing a 'multi-chrome effect' on your lids in just one swipe that blends seamlessly too!
Right that is it for now peeps!
But if you really don't want to leave then I suggest you check out more awesome vegan eyeshadows here!
Have a great day!
Please follow and like us: