I decided to purchase makeup revolution the mascara revolution after seeing the great pricing, and the shiny packaging did also play a part in encouraging me to grab it!
I've tried a few revolution beauty's products and have had somewhat a positive experience so I thought why not! Besides, it's affordable so if it works then great if it doesn't then oh well, not to worry!
Okay let's get on with the review, I'll be going through what my favourite aspects about this product are as well as anything I wasn't too keen on!
Quick overview:
Pros
Adds volume
Affordable
Lastage is decent
Cons
Found the applicator a little messy especially at first
Formula gets clumpy if not closed properly
Description
The mascara revolution by revolution beauty is a vegan and cruelty-free product. The brand state this mascara 'ticks all the boxes' if you're looking for a new go to.
It features a highly pigmented formula which adds 'amazing volume and length' without problems like smudging or flaking. ' A great mascara for an excellent price' is what revolution beauty state!
The mascara is situated in a golden shiny tube, that's medium in length and chunky. The thing about shiny products is they can get dirty quick.
On this packaging, finger prints are easily seen making the tube seem greasy and not pleasant.
But let's see how it actually performs!
Application
Application is pretty easy, however the wand is not my type. It is an hourglass shape which means the bristles are short towards the middle whereas on the ends it's longer.
The bristles also grabbed quite a lot of product which was not neat at all. I had to take some off which caused an even more mess around the tube as most the formula came out the tube then go in.
Revolution beauty state the brush design should 'hug the lashes to create a natural curl'. Though my lashes were coated pretty much evenly after a little struggle, I didn't experience the 'natural curl'. Using a curler solves the problem though.
I personally prefer wands with small bristles on one end and large on the other so I can switch the ends around depending on where it is I'm applying. Wands with a mixture of different sized bristles are also good too.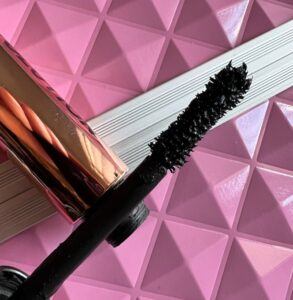 Does it lengthen & add volume?
This mascara is supposed to add volume and length, so does it? Well it does to some extent add volume that's visible however I can't say the same for the length.
I have long lashes naturally maybe that could be a reason why I didn't notice any results but they did appear thicker.
Lastage
It lasted a total of 5-6 hours till I had to reapply. Reapplication was easy and added a little extra volume which I really liked.
What I didn't like about this mascara is that after a few uses the formula had gotten clumpy. The more I opened and used the mascara the clumpier it got.
Overall I rate this mascara a 6/10! The pricing is great, it coats well and adds volume however I didn't see much lengthening as I expected, it also started to clump.
Have you tried any of revolution beauty's products? What do you think of them? Let me know in the comment section below!
If you want to check out other revolution beauty products then tap below for a review on revolutions tinted moisturiser!
And if you don't want to leave just yet then I suggest you tap here to check out more awesome vegan mascaras!
Have a great day!?
Please follow and like us: