The body shop lip juicers are one cool looking shaped lip balms but that's not why I decided to treat myself to one!
I was looking for something moisturizing with some hint of colour to it, so I decided to do a quick search and that's when the body shop lip juicers popped up. Their unique shape and tasty mixture of scents certainly made them stand out from the crowd!
So if you're curious to find out what I thought of them then please do continue reading!
Quick overview:
Pros
Great scent
Easy and smooth to apply
Helps keep lips hydrated
Travel friendly
Cons
Isn't hydrating enough for dry lips
Gets a little awkward when the product wears down.
Disclosure: This post may contain affiliate links which means that I may earn commission if click and make a purchase but no additional cost to you.
Description
These cute lip balms are scented with smoothie inspired combinations, featuring naturally derived extracts and 'mouth watering fragrances'.
Body shop state these lip balms glide along easily onto your lips leaving a 'smooth, soft and soothing, soft and soothing' finish. Their size makes them perfect for taking them everywhere and anywhere you go!
Shades
The lip juicers come in five fruit scented shades, each having different flavours.
There is a purple shade consisting of acai, blueberry and dragon fruit, green with kiwi, kale and watermelon, pink which is a coconut, passion fruit and carrot scent, light purple features raspberry, beetroot and ginger, last but not least the red shade is strawberry, pomegranate and aloe scented.
I wanted to give them all a go but decided to settle down for the coconut, passion fruit and carrot one which is a coral pink shade and the coconut one!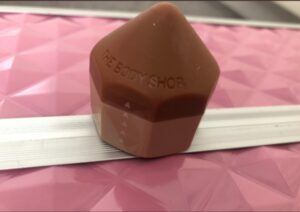 The scent is amazing, it literally smells like a smoothie! Though the coconut scent is a little stronger than the others, it still smells tasty!
Application
With the infusion of Shea butter, marula oil and organic oil, as well as the brand stating 'easy glide' you would expect an effortless application with no dragging required. So how was it?
The application was actually easy and smooth with no need to tug. I had to reapply a few times to get my overly dry lips calm, but in the end I was happy with the application process.
The texture is slightly thick then I expected but nothing too serious.
However one thing I wasn't a fan of is the shape of the balm, I mean it is cute and all but once you've used it a few times the shape makes it harder to apply neatly. This also means it's harder to use all the product, towards the end.
But one thing I would like to say that is lasts a pretty good amount of time, I have been using it for sometime now and surprisingly still doesn't look like it is going anywhere minus the funny sculpture it has formed itself too!
Is it moisturizing?
Lip balms are supposed to be moisturizing, and with the addition of Shea butter you are surely going to expect some hydration! Especially if it's named 'lip juicers'!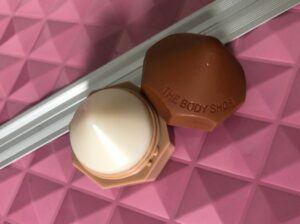 Did I find it moisturizing?
Well it is to some extent. If you apply it straight onto chapped lips then it isn't so effective, I found moisturizing my lips a little beforehand helped keep them hydrated for longer with the lip juicers.
The formula isn't sticky and doesn't feel too heavy though at first application it did have some weight to it but soon settled down, creating a nice soft base.
The pink coral shade does have a slight colour to it which becomes a little visible the more you apply.
Overall I'd rate this lip balm a 7/10! It doesn't feel heavy or too sticky, has subtle colour, smells yummy, plus the cute travel friendly packaging makes it great for daily use.
However, I feel like the formula could be a little more hydrating especially for those who possess dry lips like me, it could also do with some shape fixing to make it easier to apply but I find it's awesome to take around and would love to give the other shades a go!
I personally prefer to use this lip balm under a moisturizing lipstick, it keeps my lips hydrated well. The glossier generation g is my current favourite product to use after applying this lip balm.
If you'd like to check out the body shop lip juicers then view here!
Are you a fan of lip balms or do you prefer lipsticks? Let me know in the comment section below!
If you want to check out more awesome vegan lip moisturizers then tap here!
Have a great day!
Please follow and like us: